The return of the Designer Program
New opportunity to support fan designers from LEGO® Ideas
by The BrickLink Team

|
Dec 17, 2020 11:59 EST
Dear BrickLink members,

Back in 2018, we launched a pilot program with the LEGO Group to celebrate 60 years of the LEGO® brick and help realize unique fan designs with original themes. Thirteen fan designs were successfully crowdfunded through the pilot, and we have received many questions about its potential return since then. Is there going to be a second iteration? If so, when? You won't have to wait much longer because we can happily reveal that the Designer Program will make its return in 2021!

Are there any changes to the program?
While the core part of the program remains unchanged, there is one important difference. According to a recent survey, an overwhelming number of you showed enthusiasm and support in leveraging the Designer Program to realize LEGO Ideas fan designs that were not selected for production (see chart below).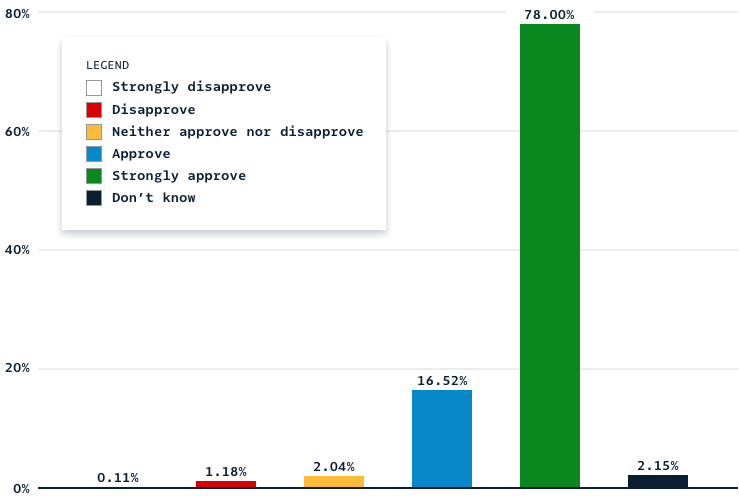 Above: Percentage of approval or disapproval of realizing LEGO Ideas projects not produced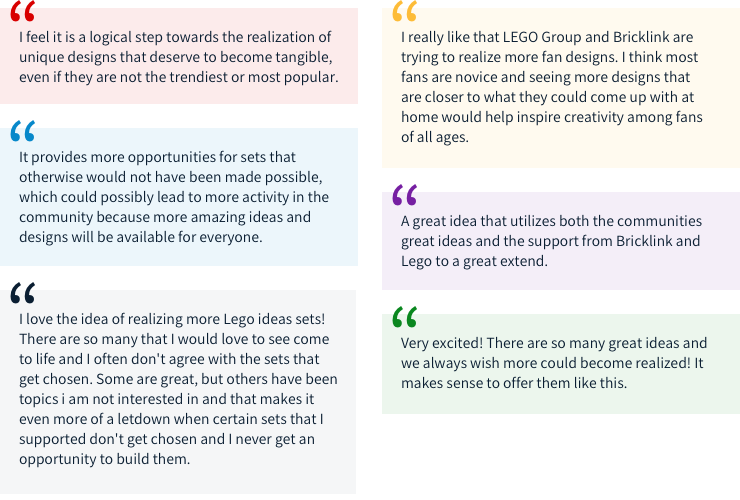 Above: Direct quotes related to realizing LEGO Ideas projects not produced

With this information, we decided to officially move forward with realizing designs from LEGO Ideas that many of you already appreciate. We will work closely with the LEGO Ideas team to bring as many great designs into the world as possible!

Who will be invited?
Select designers whose project(s) acquired 10,000 votes on LEGO Ideas, but were not approved for production, will be invited to participate in this Designer Program. Unfortunately, IP-based designs will not be eligible for the Designer Program, in addition to a few other projects that we know we unfortunately can't realize. The LEGO Ideas team will first contact the designers from January, and then the BrickLink team will proceed with the onboarding process for participating designers.

What will happen to the original AFOL Designer Program?
We understand that there are some AFOL designers and fans who anticipated a new intake of original projects. Our intention is to host annual Designer Programs that best reflect voices of the AFOL communities. Depending on preferences, we may return to the original format of the open contest in 2022. But rest assure, that no matter how designs are submitted to the program, we will continue to celebrate fan creativity by realizing your dream sets through crowdfunding.

When can I get more information?
The official program title and detailed timeline have yet to be confirmed, but you can expect to get more information in early 2021. At the same time, we will also unveil all participating designers and their projects.

We are pleased to continue this journey with you! Thank you again for contributing to the success of the 2018 pilot and for your ever-growing support of fan designs. If you haven't already, please take a moment to browse the Studio Gallery page to view more designs created by members of the AFOL community.

Stay vigilant and happy holidays!
The BrickLink Team
More BrickLink news
Second round of crowdfunding for the BrickLink Designer Program opens November 9th featuring these nine LEGO® IDEAS 10k Club Projects! -

475 days ago, 2021-10-20

Announcing Round 2 Projects -

524 days ago, 2021-08-31

BrickLink Designer Program Round 1 -

579 days ago, 2021-07-07

We are extending the BrickLink Designer Program -

635 days ago, 2021-05-12

Kicking off the BrickLink Designer Program 2021 -

691 days ago, 2021-03-17

The return of the Designer Program -

782 days ago, 2020-12-17

Looking to the future of BrickLink -

796 days ago, 2020-12-02

Build to Give -

819 days ago, 2020-11-09

Happy 20th Anniversary, BrickLink -

962 days ago, 2020-06-19

Celebrating 20 Years of BrickLink -

966 days ago, 2020-06-16
This news has 13 replies
| | |
| --- | --- |
| | Re: The return of the Designer Program - jamesvickery(319) |
| | cant wait! |
| | (782 days ago, 2020-12-17, to Announce) |
| | Re: The return of the Designer Program - wahiggin(2643) |
| | Sounds great! |
| | (782 days ago, 2020-12-17, to LEGO products) |
| | Re: The return of the Designer Program - yorbrick(1071) |
| | This sounds great. Although if this is BL run rather than done in house at LEGO, then are LEGO/BL going to be hiring more staff to manually pick the parts or will it be all-hands-on-deck with all... |
| | (781 days ago, 2020-12-17, to General) |
| | Re: The return of the Designer Program - StarBrick(6620) |
| | Great! That's some good news for the new year to come already!!! |
| | (781 days ago, 2020-12-17, to Announce) |
| | Re: The return of the Designer Program - hjos(531) |
| | It will be great to have a new designer program and, just to clarify, the crowdfunding for the last one it was in 2019, not in 2018. [...] |
| | (781 days ago, 2020-12-17, to General) |
| | (Cancelled) - hjos(531) |
| | Cancelled |
| | (781 days ago, 2020-12-17, to General) |
| | Re: The return of the Designer Program - povoq(27) |
| | The Castle in the Forest is ready to enter the competition. May the best castle win :-) |
| | (781 days ago, 2020-12-17, to Events) |
| | Re: The return of the Designer Program - MatthewRC(299) |
| | Will Sokoda's Bionicle 20th Anniversary project be eligible for this? I mean, Bionicle is an original IP owned by LEGO. |
| | (778 days ago, 2020-12-21, to General) |
| | Re: The return of the Designer Program - ms.g.tx(6) |
| | Thank you! This will be great. |
| | (770 days ago, 2020-12-28, to Feedback) |
| | Re: The return of the Designer Program - BricxaLot(302) |
| | It is great that the Designer Program will return soon. It is such a wonderful contest. On the other hand, I am not sure about the participation rule as "Select designers whose project(s... |
| | (739 days ago, 2021-01-28, to Contests) |
| | Re: The return of the Designer Program - zedsmith12(3) |
| | I'm checking in every day waiting for an update on this. Can we get some news LEGO? |
| | (699 days ago, 2021-03-09, to Events) |
| | Re: The return of the Designer Program - Wesman(303) |
| | Any news? [...] |
| | (698 days ago, 2021-03-10, to Events) |
| | (Cancelled) - user67895404(0) |
| | Cancelled |
| | (108 days ago, 2022-10-22, to Designer Program) |
20 Messages in this Thread:

Msg 1 « - Admin, 782 days ago, 2020-12-17 to NEWS



Msg 2 - jamesvickery(319)

, 782 days ago, 2020-12-17 to Announce



Msg 3 - wahiggin(2643)

, 782 days ago, 2020-12-17 to LEGO products



Msg 4 - yorbrick(1071)

, 781 days ago, 2020-12-17 to General



Msg 5 - StarBrick(6620)

, 781 days ago, 2020-12-17 to Announce



Msg 6 - hjos(531)

, 781 days ago, 2020-12-17 to General



Msg 7 - hjos(531)

, 781 days ago, 2020-12-17 to General



Msg 8 - povoq(27)

, 781 days ago, 2020-12-17 to Events




Msg 9 - yorbrick(1071)

, 781 days ago, 2020-12-18 to Events





Msg 10 - SylvainLS(38)

, 781 days ago, 2020-12-18 to Events






Msg 11 - yorbrick(1071)

, 781 days ago, 2020-12-18 to Events




Msg 12 - ChokyIsMe(165)

, 433 days ago, 2021-12-01 to Events



Msg 13 - MatthewRC(299)

, 778 days ago, 2020-12-21 to General



Msg 14 - ms.g.tx(6), 770 days ago, 2020-12-28 to Feedback



Msg 15 - BricxaLot(302)

, 739 days ago, 2021-01-28 to Contests



Msg 16 - zedsmith12(3), 699 days ago, 2021-03-09 to Events




Msg 17 - Admin_Russell, 699 days ago, 2021-03-09 to Events



Msg 18 - Wesman(303)

, 698 days ago, 2021-03-10 to Events



Msg 19 - user67895404, 108 days ago, 2022-10-22 to Designer Program




Msg 20 - user67895404, 108 days ago, 2022-10-22 to Designer Program