Collaboration with the LEGO Group
Introducing the AFOL Designer Program
by BrickLink Team

|
Sep 06, 2018 11:07 EST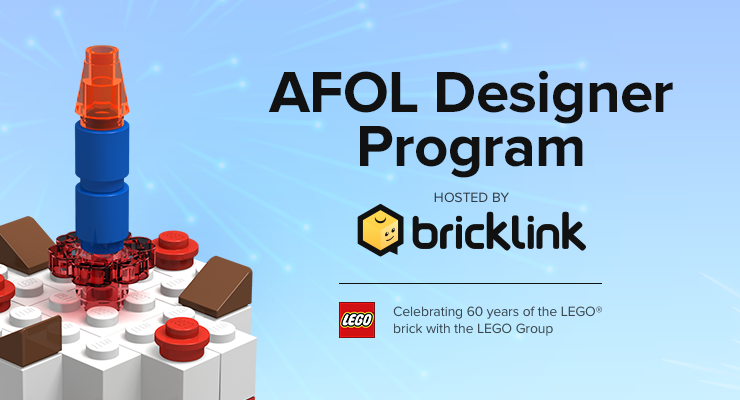 Today is such an exciting day at the BrickLink office because we finally get to reveal a very special collaboration with none other than the LEGO Group. We've been bursting at the seams because of how long we've had to keep this program a secret! Now that we've all had a minute to scream and catch our breaths, let's get into the details. 
What is the AFOL Designer Program?
  This program celebrates creativity by realizing unique AFOL designs with truly original themes. What better timing than to kick it off in the year of the 60th anniversary of the LEGO brick? For a limited time, BrickLink will be hosting the AFOL Designer Program. We are honored to help highlight your creativity and help make your designs a reality.
Where can I get more information? 
An official announcement and more details about the program will be revealed Wednesday, September 12th. Mark your calendars!   
-BrickLink Team 
More BrickLink news
BrickLink will join the LEGO Group -

513 days ago, 2019-11-26

A Message from the LEGO Group -

513 days ago, 2019-11-26

Crowdfunding is officially open! -

811 days ago, 2019-02-01

Thank you for submitting your designs to the AFOL Designer Program! -

884 days ago, 2018-11-19

Your design can become a limited edition 60 Years Anniversary set! -

953 days ago, 2018-09-12

Collaboration with the LEGO Group -

959 days ago, 2018-09-06

Coming Soon: Instant Checkout -

1408 days ago, 2017-06-13

Coming Soon: MOSAICK -

1428 days ago, 2017-05-24

Introducing Easy Buy -

1443 days ago, 2017-05-09

Tell Your BrickLink Story -

1665 days ago, 2016-09-29
This news has 32 replies
| | |
| --- | --- |
| | Re: Collaboration with the LEGO Group = Strange - StarBrick(5915) |
| | Okay, maybe you need to change the disclaimer on the bottom of the website saying that Lego "does not sponsor, authorize, or endorse this site".....? Not sure wether I am happy or sad about this.... |
| | (959 days ago, 2018-09-06, to Announce) |
| | Re: Collaboration with the LEGO Group - Rw107(181) |
| | So this sounds quite similar to the Lego Ideas concept.. interesting. I Will be watching for updates on this intently. Congrats on the partnership Brick link! |
| | (959 days ago, 2018-09-06, to Events) |
| | Re: Collaboration with the LEGO Group - Teup(4996) |
| | [...] When the admins say something is a huge deal and you feel taunted to have a strong opinion but there's no information in the post (URL) see :) |
| | (959 days ago, 2018-09-06, to General) |
| | Re: Collaboration with the LEGO Group - yorbrick(880) |
| | [...] An announcement about an announcement. Dangerous territory as now there will be speculation about what it is and why it is/isn't needed. Is it MOCshop v2.0? |
| | (959 days ago, 2018-09-06, to General) |
| | Re: Collaboration with the LEGO Group - demontes(964) |
| | [...] Um - I think you forgot to write any details. I would call this a tease, not an announcement. EDM |
| | (959 days ago, 2018-09-06, to Announce) |
| | (Cancelled) - brisbane_qld(542) |
| | Cancelled |
| | (959 days ago, 2018-09-06, to Administrative) |
| | Re: Collaboration with the LEGO Group - Eawyne(36) |
| | But... what is an AFOL ? |
| | (959 days ago, 2018-09-06, to Announce) |
| | Re: Collaboration with the LEGO Group - Heartbricker(10960) |
| | i'm happy seeing more traffic BUT the system seems to be barely handling the current traffic speed-wise. I hope it gets addressed. |
| | (959 days ago, 2018-09-06, to Announce) |
| | Re: Collaboration with the LEGO Group - bb1011583(0) |
| | All good except I have no idea what AFOL is. Is A Friend of Lego, A Fish on Lino, A Foot of Liquorish? so its a bit difficult to get excited about it... |
| | (959 days ago, 2018-09-06, to Events) |
| | Re: Collaboration with the LEGO Group - _nstbodensee_(570) |
| | [...] Ok,does that mean that the LEGO Group starts selling bricks on bricklink? Are the other sellers supposed to compete against LEGO (which is impossible)? |
| | (958 days ago, 2018-09-06, to Announce) |
| | Re: Collaboration with the LEGO Group - DarthSoban(43) |
| | K but like, what is it? Because Stud.io is already this site's built in designer program. I'm very confused. |
| | (958 days ago, 2018-09-06, to Feedback) |
| | Re: Collaboration with the LEGO Group - Shingouz(11) |
| | Just a teaser. And a lost of time to read it. |
| | (958 days ago, 2018-09-06, to Announce) |
| | Re: Collaboration with the LEGO Group - Aerospacesmith(1) |
| | I'm not sure what AFOL stands for, but you may want to re-think the acronym. The 1st time I saw it, I read it as "awful" and now I can't not read it as the "Awful" Designer Program. |
| | (958 days ago, 2018-09-06, to Announce) |
| | Re: Collaboration with the LEGO Group - bb1046288(0) |
| | Found this bit on the Lego.com site: Adult Fans of LEGO (AFOLs) to provide valuable dialog and initiate activities of relevance to the success between the LEGO Group and the Adult Fan of ... |
| | (958 days ago, 2018-09-06, to General) |
| | Re: Collaboration with the LEGO Group - Fritz_Bricks(15) |
| | [...] |
| | (958 days ago, 2018-09-06, to Announce) |
| | Re: Collaboration with the LEGO Group - mfsinger(10) |
| | It is mind boggling that any member of this site would not know what AFOL was. The acronym has been around for MANY years. It was even the title of a documentary. |
| | (958 days ago, 2018-09-06, to Announce) |
| | Re: Collaboration with the LEGO Group - agrippa(11) |
| | Maybe you should have just contained your excitement a few more days rather than posting this vague teaser with a section called "What is the AFOL Designer Program?" then proceed to say absolutel... |
| | (958 days ago, 2018-09-06, to Administrative) |
| | Re: Collaboration with the LEGO Group - Stevesation(39) |
| | To everybody here questioning what AFOL means. AFOL means: Adult Fan Of Lego. I do not know yet what the program will be involved with though.. |
| | (958 days ago, 2018-09-07, to Administrative) |
| | Re: Collaboration with the LEGO Group - andreasng(8) |
| | amazing! congrats! this is great news. |
| | (958 days ago, 2018-09-07, to Announce) |
| | Re: Collaboration with the LEGO Group - Dodgem(36) |
| | Adult Fan of Lego |
| | (958 days ago, 2018-09-07, to Announce) |
| | Re: Collaboration with the LEGO Group - jonhall000(1995) |
| | Interesting, but unclear how this will differ from Lego Ideas. On the one hand it's good that Lego are finally acknowledging bricklink and AFOLs, and are engaging with the Lego community (... |
| | (958 days ago, 2018-09-07, to Announce) |
| | Re: Collaboration with the LEGO Group - ptk(8) |
| | Happy for this awesome service (bricklink)!But afraid, thinking about controlling prices and turn them higher... |
| | (958 days ago, 2018-09-07, to Announce) |
| | Re: Collaboration with the LEGO Group - kdmcmullan(21) |
| | I just got an email about an announcement and clicked on the link. It's an announcement that there's going to be an announcement! I hope the announcement is less of an anticlimax than the... |
| | (957 days ago, 2018-09-07, to Announce) |
| | Re: Collaboration with the LEGO Group - bigdaddybry(38) |
| | People, it's a collaboration. Just because two companies are doing an event together does not mean Lego is going to start selling on this site or anything of that sort. Also, ADULT FAN OF LEG... |
| | (957 days ago, 2018-09-07, to Feedback) |
| | Re: Collaboration with the LEGO Group - bb1024402(-1) |
| | [...] I'm a fan of lego.it s a good idea |
| | (957 days ago, 2018-09-08, to LANG Français) |
| | Re: Collaboration with the LEGO Group - Mardosul(2638) |
| | [...] Well, there would be so much to tell about this. But I think I will probably just sit back and wait... |
| | (957 days ago, 2018-09-08, to Announce) |
| | Re: Collaboration with the LEGO Group - MD213(2) |
| | What does AFOL stand for? |
| | (957 days ago, 2018-09-08, to Administrative) |
| | Re: Collaboration with the LEGO Group - SylvainLS(36) |
| | A new "AFOL Designer Program" main topic just appeared on the other forum, (URL) the one that is (was until now?) dedicated to Stud.io (and the late Mosaick (whose topic is closed&... |
| | (954 days ago, 2018-09-10, to LEGO) |
| | Re: Collaboration with the LEGO Group - NicoBuma(682) |
| | Would love to know what it is, this announcement is nothing more than a teaser of a 2nd announcement. Too bad most of the site was down around the time of the announcement, seems to me, that onc... |
| | (954 days ago, 2018-09-11, to Announce) |
| | Re: Collaboration with the LEGO Group - Fyhn(93) |
| | Wasn't today? Or is't later today? |
| | (953 days ago, 2018-09-12, to LEGO) |
| | Re: Collaboration with the LEGO Group -> NEWS? - StarBrick(5915) |
| | "An official announcement and more details about the program will be revealed Wednesday, September 12th. Mark your calendars!" Anything news? |
| | (953 days ago, 2018-09-12, to Announce) |
| | Re: Collaboration with the LEGO Group - bb1190606(0) |
| | [...] |
| | (942 days ago, 2018-09-23, to LEGO) |
81 Messages in this Thread:

Msg 1 « - Admin, 959 days ago, 2018-09-06 to NEWS



Msg 2 - StarBrick(5915)

, 959 days ago, 2018-09-06 to Announce




Msg 3 - WoutR(745)

, 959 days ago, 2018-09-06 to Announce




Msg 4 - JulieK(8306)

, 959 days ago, 2018-09-06 to Announce




Msg 5 - SteveTheSquid(250)

, 959 days ago, 2018-09-06 to Announce




Msg 6 - bb587980(-1), 958 days ago, 2018-09-07 to Announce




Msg 7 - bb587980(-1), 953 days ago, 2018-09-12 to Announce



Msg 8 - Rw107(181)

, 959 days ago, 2018-09-06 to Events




Msg 9 - junkpile(952)

, 959 days ago, 2018-09-06 to Events





Msg 10 - SylvainLS(36)

, 959 days ago, 2018-09-06 to Events






Msg 11 - junkpile(952)

, 959 days ago, 2018-09-06 to Events







Msg 12 - SylvainLS(36)

, 959 days ago, 2018-09-06 to Events



Msg 13 - Teup(4996)

, 959 days ago, 2018-09-06 to General




Msg 14 - misbi(7586)

, 959 days ago, 2018-09-06 to General



Msg 15 - yorbrick(880)

, 959 days ago, 2018-09-06 to General




Msg 16 - SylvainLS(36)

, 959 days ago, 2018-09-06 to General




Msg 17 - bagelboybugle(3405)

, 959 days ago, 2018-09-06 to General





Msg 18 - Bond(700)

, 959 days ago, 2018-09-06 to General



Msg 19 - demontes(964)

, 959 days ago, 2018-09-06 to Announce



Msg 20 - brisbane_qld(542)

, 959 days ago, 2018-09-06 to Administrative



Msg 21 - Eawyne(36)

, 959 days ago, 2018-09-06 to Announce




Msg 22 - BartHmr(4), 959 days ago, 2018-09-06 to Announce



Msg 23 - Heartbricker(10960)

, 959 days ago, 2018-09-06 to Announce



Msg 24 - bb1011583, 959 days ago, 2018-09-06 to Events




Msg 25 - DaDoeme(16)

, 959 days ago, 2018-09-06 to Events




Msg 26 - Proprietor(1687)

, 959 days ago, 2018-09-06 to Events




Msg 27 - FatalDiskError(4), 958 days ago, 2018-09-06 to Events





Msg 28 - SylvainLS(36)

, 958 days ago, 2018-09-06 to Events





Msg 29 - SezaR(630)

, 958 days ago, 2018-09-06 to Events






Msg 30 - WoutR(745)

, 958 days ago, 2018-09-06 to Events



Msg 31 - _nstbodensee_(570)

, 958 days ago, 2018-09-06 to Announce




Msg 32 - DeLuca(180)

, 958 days ago, 2018-09-06 to Announce





Msg 33 - _nstbodensee_(570)

, 958 days ago, 2018-09-06 to Announce



Msg 34 - DarthSoban(43)

, 958 days ago, 2018-09-06 to Feedback




Msg 35 - SylvainLS(36)

, 958 days ago, 2018-09-06 to Feedback



Msg 36 - Shingouz(11)

, 958 days ago, 2018-09-06 to Announce




Msg 37 - Teup(4996)

, 958 days ago, 2018-09-06 to Announce



Msg 38 - Aerospacesmith(1), 958 days ago, 2018-09-06 to Announce




Msg 39 - WoutR(745)

, 958 days ago, 2018-09-06 to Announce




Msg 40 - DeLuca(180)

, 958 days ago, 2018-09-06 to Announce





Msg 41 - PurpleDave(969)

, 958 days ago, 2018-09-06 to Announce



Msg 42 - bb1046288, 958 days ago, 2018-09-06 to General



Msg 43 - Fritz_Bricks(15)

, 958 days ago, 2018-09-06 to Announce



Msg 44 - mfsinger(10)

, 958 days ago, 2018-09-06 to Announce



Msg 45 - agrippa(11)

, 958 days ago, 2018-09-06 to Administrative




Msg 46 - yorbrick(880)

, 958 days ago, 2018-09-07 to Administrative





Msg 47 - StormChaser(388)

, 958 days ago, 2018-09-07 to Administrative






Msg 48 - yorbrick(880)

, 958 days ago, 2018-09-07 to Administrative







Msg 49 - StormChaser(388)

, 958 days ago, 2018-09-07 to Administrative








Msg 50 - yorbrick(880)

, 958 days ago, 2018-09-07 to Administrative



Msg 51 - Stevesation(39)

, 958 days ago, 2018-09-07 to Administrative



Msg 52 - andreasng(8), 958 days ago, 2018-09-07 to Announce




Msg 53 - demontes(964)

, 958 days ago, 2018-09-07 to Announce



Msg 54 - Dodgem(36)

, 958 days ago, 2018-09-07 to Announce



Msg 55 - jonhall000(1995)

, 958 days ago, 2018-09-07 to Announce




Msg 56 - yorbrick(880)

, 958 days ago, 2018-09-07 to Announce




Msg 57 - dok33, 958 days ago, 2018-09-07 to Announce





Msg 58 - yorbrick(880)

, 958 days ago, 2018-09-07 to Announce





Msg 59 - modul(4), 958 days ago, 2018-09-07 to Announce



Msg 60 - ptk(8), 958 days ago, 2018-09-07 to Announce



Msg 61 - kdmcmullan(21)

, 957 days ago, 2018-09-07 to Announce



Msg 62 - bigdaddybry(38)

, 957 days ago, 2018-09-07 to Feedback



Msg 63 - bb1024402(-1), 957 days ago, 2018-09-08 to LANG Français



Msg 64 - Mardosul(2638)

, 957 days ago, 2018-09-08 to Announce



Msg 65 - MD213(2), 957 days ago, 2018-09-08 to Administrative




Msg 66 - donja_nl(6816)

, 956 days ago, 2018-09-09 to Administrative





Msg 67 - StoreToys4Boys(1102)

, 955 days ago, 2018-09-09 to Administrative






Msg 68 - yorbrick(880)

, 955 days ago, 2018-09-10 to Administrative







Msg 69 - StoreToys4Boys(1102)

, 955 days ago, 2018-09-10 to Administrative








Msg 70 - yorbrick(880)

, 955 days ago, 2018-09-10 to Administrative









Msg 71 - StoreToys4Boys(1102)

, 954 days ago, 2018-09-10 to Administrative










Msg 72 - yorbrick(880)

, 954 days ago, 2018-09-11 to Administrative



Msg 73 - SylvainLS(36)

, 954 days ago, 2018-09-10 to LEGO




Msg 74 - SylvainLS(36)

, 954 days ago, 2018-09-10 to Announce



Msg 75 - NicoBuma(682)

, 954 days ago, 2018-09-11 to Announce



Msg 76 - Fyhn(93)

, 953 days ago, 2018-09-12 to LEGO




Msg 77 - randyf(406)

, 953 days ago, 2018-09-12 to LEGO





Msg 78 - SylvainLS(36)

, 953 days ago, 2018-09-12 to LEGO



Msg 79 - StarBrick(5915)

, 953 days ago, 2018-09-12 to Announce




Msg 80 - StarBrick(5915)

, 953 days ago, 2018-09-12 to Announce



Msg 81 - bb1190606, 942 days ago, 2018-09-23 to LEGO