Announcing Round 2 Projects
BrickLink Designer Program
by The BrickLink Team

|
Aug 31, 2021 15:58 EST
Dear Members,
We're excited to announce the projects for Round 2 of Crowdfunding in the BrickLink Designer Program! They are: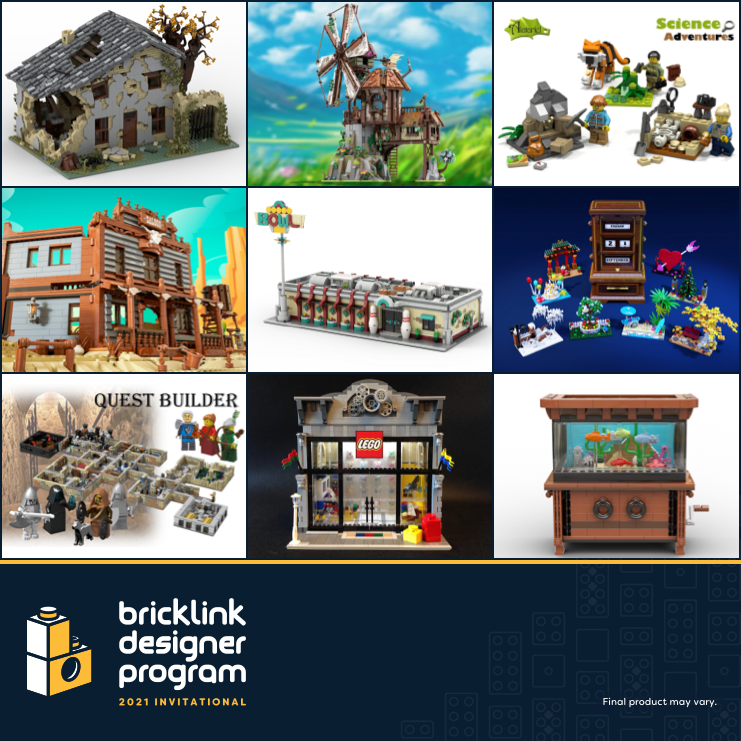 Round 2 Crowdfunding will open in late 2021.
Update on Anatomini
Due to the complexity of revising Anatomini to meet BrickLink Designer Program requirements, we are very sorry to have to withdraw the project. We hope that we will be able to work with the designer again in the future!
What about Round 3?
While it might seem obvious which projects remain, we're waiting to officially name Round 3 projects until all of them have passed feasibility tests during test building.
For more questions on the BrickLink Designer Program, visit the FAQ page.
Thank you,
The BrickLink Team
This news has 4 replies
| | |
| --- | --- |
| | Re: Announcing Round 2 Projects - randyf(442) |
| | [...] That Seasons in Time: Calendar is *very* nice. I may just have to get one of those if I can. It would look awesome on my desk. |
| | (818 days ago, 2021-08-31, to Administrative) |
| | Re: Announcing Round 2 Projects - arminikonic(154) |
| | let us purchase at least 2. One for us, one to gift.. unfair to drop it to only 1 |
| | (817 days ago, 2021-09-01, to Designer Program) |
| | Re: Announcing Round 2 Projects - franktv(0) |
| | Agree that Round 3 is stuffed with lots of heavy hitters which means we'll miss out on some great sets for sure. This was likely due to many of the sets not having finished the test build pha... |
| | (817 days ago, 2021-09-01, to Designer Program) |
| | Re: Announcing Round 2 Projects - Actionman1964(47) |
| | In NEWS, >Dear Members, what they dont tell you here is once you have bought a project it can take up 8 months to come what use is that > > >We're excited to announce the projec... |
| | (811 days ago, 2021-09-07, to General) |
18 Messages in this Thread:

Msg 1 « - Admin, 818 days ago, 2021-08-31 to NEWS



Msg 2 - randyf(442)

, 818 days ago, 2021-08-31 to Administrative




Msg 3 - ThomosEvans(4), 818 days ago, 2021-08-31 to Administrative




Msg 4 - ThomosEvans(4), 818 days ago, 2021-08-31 to Administrative




Msg 5 - psusaxman2000(283)

, 818 days ago, 2021-08-31 to Administrative




Msg 6 - Llewyn(179)

, 817 days ago, 2021-09-01 to Administrative




Msg 7 - stebbersuk(4), 817 days ago, 2021-09-01 to Administrative



Msg 8 - arminikonic(154)

, 817 days ago, 2021-09-01 to Designer Program




Msg 9 - tons_of_bricks(12226)

, 817 days ago, 2021-09-01 to Designer Program





Msg 10 - yorbrick(1169)

, 817 days ago, 2021-09-01 to Designer Program






Msg 11 - tons_of_bricks(12226)

, 817 days ago, 2021-09-01 to Designer Program




Msg 12 - psusaxman2000(283)

, 817 days ago, 2021-09-01 to Designer Program





Msg 13 - Eli_n_Me(11)

, 817 days ago, 2021-09-01 to Designer Program




Msg 14 - Eli_n_Me(11)

, 817 days ago, 2021-09-01 to Designer Program



Msg 15 - franktv, 817 days ago, 2021-09-01 to Designer Program




Msg 16 - Llewyn(179)

, 817 days ago, 2021-09-02 to Designer Program



Msg 17 - Actionman1964(47)

, 811 days ago, 2021-09-07 to General




Msg 18 - dragonm(40)

, 784 days ago, 2021-10-04 to General