BrickLink Designer Program Round 1
BrickLink's response to feedback
by The BrickLink Team

|
Jul 07, 2021 17:07 EST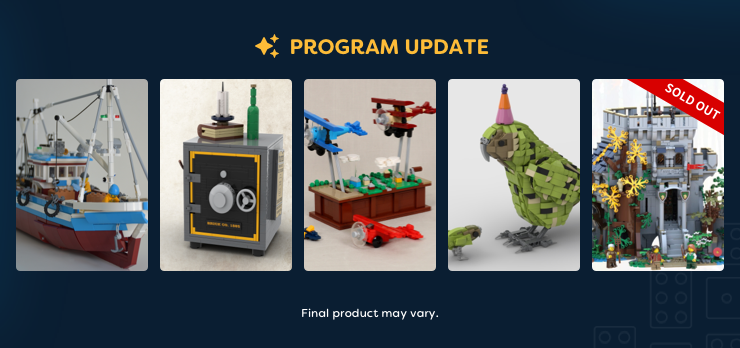 Thank you for the incredible interest you showed in the BrickLink Designer Program. We have been blown away by the response. As with any new endeavor, some things went well, and others don't go to plan.
What worked
Based on our first round of crowdfunding, we believe the BrickLink Designer Program has strong potential. Your interest exceeds all our expectations. The portfolio of products is strong, and the designers are a joy to work with. We are looking forward to preparing for rounds 2 and 3.
However, there are a few things we need to address urgently with Round 1.
What needs to be improved
Thank you to everyone who has shared comments and feedback with us over the past week. While we understand many of you are frustrated, we are grateful for your quick and clear input.
There are four areas we want to address:
Site performance
Limited production of 5,000 units of each set & ordering glitch
Order limits of 5 sets per customer
Shipping limited to countries serviced by LEGO.com
Site performance & server capacity
When the crowdfunding went live on Thursday July 1 traffic to the site overloaded BrickLink's servers. This meant some users couldn't place their orders in time and for many, the site ground to a halt. We apologize for any disappointment this caused. We are currently reviewing server capacity.
Limited production and ordering glitch
The limit of 5,000 units per set was based on the AFOL Designer Program run in 2019. For that release, we produced 2,500 sets which didn't all sell out. We obviously underestimated the appeal of the BrickLink Designer Program sets and because of that, we will double the limit for future releases.
The high level of demand was compounded by the site performance issues. An ordering glitch meant that people were able to pre-order 5,000 additional Castle in the Forest sets, which means we've received orders for 10,000 sets.
We have talked to many of you in the community about how to address this and have decided on the following actions:
Produce 10,000 of the Castle in the Forest sets so we can deliver to everyone who ordered.
Re-opening pre-ordering for round 1 on August 3rd to allow the four projects Kakapo, Great Fishing Boat, Sheriff's Safe and Pursuit of Flight to also sell up to 10,000 sets.
Increase production for Crowdfunding rounds 2 and 3 to 10,000 each to meet demand.
We appreciate that this approach may not satisfy everyone, but we had to balance meeting users' expectations with offering a fair outcome, so all designers had the chance to sell the same number of sets and the potential to dilute some of the exclusivity that comes with doubling the number of set available. We hope you understand.
Increasing production will delay shipping and future rounds of crowdfunding. Since we are doubling the production run, the additional 5,000 sets for Round 1 will be shipped in June 2022, as opposed to January 2022. This will also delay the release of Rounds 2 & 3. The final plan for this will be communicated at a later stage.
If, because of these changes, you wish to cancel the sets you've pre-ordered, please contact LEGO Customer Service.
Order limits of five per customer
We initially set the maximum order quantity at five per customer. Unfortunately, we saw a very small number of opportunistic customers hoarding sets and re-selling them for inflated prices. We're disappointed by this as it wasn't our intention to enable such behavior. We want everyone to have an opportunity to get a hold of a set, so going forward, we will set a maximum order limit of 1 set per customer. This will apply from when we re-open Round 1 to additional orders and to future crowdfunding rounds.
It's important to point out that 75% of orders for Castle in the Forest were for one set– so we'd like to thank you for being considerate of other fans.
Shipping limited to LEGO Shop countries
We have decided to sell BrickLink Designer Program sets through the LEGO.com shop to give you a smooth shipping and support process. Unfortunately, this also limits the countries to which we can ship. For now, we plan to continue to use LEGO.com and not offer additional shipping destinations.
In summary
For Round 1, we will increase the number of sets available from 5,000 to 10,000. Castle in the Forest has already reached this amount. The four other sets will re-open to additional pre-ordering on August 3rd, but it will not be possible to pre-order additional Castle in the Forest sets. The additional production run will delay in shipping and release dates for crowdfunding rounds 2 and 3.
All future pre-orders will have a quantity limit of 1.
Unfortunately, in the current LEGO.com setup we are not able to ship to additional countries.
Again, we apologize for any disappointment and hope that the steps outlined above go some way to address the concerns raised.
Thank you for your patience, feedback and support for the BrickLink Designer Program. We look forward to building a better experience moving forward.
Sincerely,
The BrickLink Team
This news has 165 replies
| | |
| --- | --- |
| | Re: BrickLink Designer Program Round 1 - popsicle(6563) |
| | Maybe place this good-news post under the new forum topic as well? (URL) |
| | (882 days ago, 2021-07-07, to Designer Program) |
| | Re: BrickLink Designer Program Round 1 - Brickitty(5630) |
| | In my opinion, this is a very fair response to the complaints, and more than I expected BL to do. Can't wait for future rounds! |
| | (882 days ago, 2021-07-07, to Designer Program) |
| | Re: BrickLink Designer Program Round 1 - Thespian70(110) |
| | So, will those of us that managed to get an order in for one of the funded items before the original 5000 unit limit was hit see those sets in January or June 2022? |
| | (882 days ago, 2021-07-07, to Designer Program) |
| | Re: BrickLink Designer Program Round 1 - Brekli(182) |
| | This response is so bad you shouldn't have even bothered with it. Completely ditch the notion of 'exclusivity' regarding a limited number of sets available. Base it entirely around a ... |
| | (882 days ago, 2021-07-07, to Designer Program) |
| | Re: BrickLink Designer Program Round 1 - RedBeardDan(1895) |
| | How did the Glitch work on the castle in the forest? Did 10 000 sell in 35min? I tried to order 40min after it opened and there was not even a waiting list to sign up for. |
| | (882 days ago, 2021-07-07, to Designer Program) |
| | Re: BrickLink Designer Program Round 1 - Chiaroscuro(105) |
| | How do I know if I am on the 5.000 Castle preorders that will ship Jan 2022 or on the later 5.000 units that will ship only in July??? |
| | (882 days ago, 2021-07-07, to Designer Program) |
| | Re: BrickLink Designer Program Round 1 - Gaides(109) |
| | Still not a solution more of a well we screwed up but we don't give a crap about you guys here are a few token gives to make us feel better and so we can say we did something to "solve" this.... |
| | (882 days ago, 2021-07-07, to Designer Program) |
| | Re: BrickLink Designer Program Round 1 - The_Collect0r(71) |
| | Thanks for the update and responding to numerous concerns but I still think it could've been smoother. I mean I was on the site 20mins after launch and tried numerous times to get the Castle ... |
| | (882 days ago, 2021-07-07, to Designer Program) |
| | Re: BrickLink Designer Program Round 1 - STARHAWK(108) |
| | So do i count correctly for the Caste in the Forest ? In total 5000 orders for the 10 000 sets produced 3750 of it (75%) for 1 pcs 1250 of it (25%) for 5 pcs That means only... |
| | (882 days ago, 2021-07-07, to Designer Program) |
| | Re: BrickLink Designer Program Round 1 - Mailman(521) |
| | It's disappointing that you don't open up the Castle in the Forest for more orders. This set was obviously the favorite in this round, and given the fact that you admit server errors mean... |
| | (882 days ago, 2021-07-07, to Designer Program) |
| | Re: BrickLink Designer Program Round 1 - masopaso(47) |
| | so let me make this clear in a sentence: buy Castle in the forest on ebay for 800$ |
| | (882 days ago, 2021-07-07, to Designer Program) |
| | Re: BrickLink Designer Program Round 1 - Mailman(521) |
| | It's disappointing that you don't open up the Castle in the Forest for more orders. This set was obviously the favorite in this round, and given the fact that you admit server errors mean... |
| | (882 days ago, 2021-07-07, to Designer Program) |
| | Re: BrickLink Designer Program Round 1 - amvdamian(390) |
| | [...] So what's wrong with making more than just 10k sets??? You've acknowledged that there were a lot of areas for improvement, that led to some interested collectors being shut out from purc... |
| | (882 days ago, 2021-07-07, to Designer Program) |
| | Re: BrickLink Designer Program Round 1 - Mailman(521) |
| | So, basically you're telling us that because of server errors/inadequacies, those that wanted the Castle in the Forest set, but were unable to get it, you still can't get it. Oh, and by t... |
| | (882 days ago, 2021-07-07, to Designer Program) |
| | Re: BrickLink Designer Program Round 1 - Horse25(17) |
| | Please make castle in the Forrest available! |
| | (882 days ago, 2021-07-07, to Designer Program) |
| | Re: BrickLink Designer Program Round 1 - Cashmoney6(0) |
| | Limiting the set to 1 per customer would have made it fine, kinda disappointed because one of the main reasons i bought one of the sets was because of how limited it was. I feel like lowering the... |
| | (882 days ago, 2021-07-07, to Designer Program) |
| | Re: BrickLink Designer Program Round 1 - Elberik(484) |
| | So the scalpers get to keep their sets and those of us who didn't camp-out on the site are just left out in the cold. Great. Fantastic. |
| | (882 days ago, 2021-07-07, to Designer Program) |
| | (Cancelled) - babyboybricks(154) |
| | Cancelled |
| | (882 days ago, 2021-07-07, to Designer Program) |
| | (Cancelled) - babyboybricks(154) |
| | Cancelled |
| | (882 days ago, 2021-07-07, to Designer Program) |
| | Re: BrickLink Designer Program Round 1 - bluesfier(9) |
| | The improvements are great and all, but you really should offer more of the Castle set. It is what people really want. There are plenty of people who weren't even able to get one of that se... |
| | (882 days ago, 2021-07-07, to Designer Program) |
| | Re: BrickLink Designer Program Round 1 - KrazyGhost(102) |
| | They didnt add more to Castle because it had already sold 10k due to a glitch....what i dont get is why those who ordered Day 1 in the original 5k have to wait almost a year due to you guys addin... |
| | (882 days ago, 2021-07-07, to Designer Program) |
| | Re: BrickLink Designer Program Round 1 - JonMKnight(1) |
| | This doesn't really fix the core underlining failures of this. Stop supporting scalper culture, start supporting your fans. What would have been an impressive show to fans, is if you actual... |
| | (882 days ago, 2021-07-07, to Designer Program) |
| | Re: BrickLink Designer Program Round 1 - dreambuilder71(1112) |
| | Just shows the Lego Ideas people don't know what they are doing when they choose sets we don't really want, but say no to sets we really do want. Just make sets based on our votes and you... |
| | (882 days ago, 2021-07-07, to Designer Program) |
| | Re: BrickLink Designer Program Round 1 - rlegault(21) |
| | This seems like a reasonable solution to me. I hope that you will consider making more than 10,000 sets if they sell out again in a few hours on August 3rd. |
| | (882 days ago, 2021-07-07, to Designer Program) |
| | (Cancelled) - CCME(573) |
| | Cancelled |
| | (882 days ago, 2021-07-07, to Designer Program) |
| | Re: BrickLink Designer Program Round 1 - dfmswm(207) |
| | We appreciate the additional Castle in the Forest sets made available, but as a long time castle fan, I speak for many when I say that you could double the number of sets available again and st... |
| | (882 days ago, 2021-07-07, to Designer Program) |
| | Re: BrickLink Designer Program Round 1 - 111insanedane(1412) |
| | [...] Nice changes going forward but since there is such a high demand for the castle and they are already going to be making double what they planned, why not allow for more orders over a set t... |
| | (882 days ago, 2021-07-07, to Designer Program) |
| | Re: BrickLink Designer Program Round 1 - arminikonic(155) |
| | Well now im upset that its only 1 per person, make it 2. I want to build one now and keep one in the future. Really unfair to screw over others too now. Make it fair |
| | (882 days ago, 2021-07-07, to Designer Program) |
| | Re: BrickLink Designer Program Round 1 - ParkerF(84) |
| | That is more than I expected to happen. I still cannot get the castle set so I am about as happy about this as before :-( Also I don't understand the few people here who complain about ex... |
| | (882 days ago, 2021-07-07, to Designer Program) |
| | Re: BrickLink Designer Program Round 1 - BrickFan2424(0) |
| | First of all, I do have to thank Bricklink for making this program, it is an enormous step in the right direction. With that said[/B], I thought the 2k+ of unhappy comments under Castle in the Fo... |
| | (882 days ago, 2021-07-07, to Designer Program) |
| | (Cancelled) - kiwiman(53) |
| | Cancelled |
| | (882 days ago, 2021-07-07, to Designer Program) |
| | (Cancelled) - BadgerKing(0) |
| | Cancelled |
| | (882 days ago, 2021-07-07, to Designer Program) |
| | Re: BrickLink Designer Program Round 1 - BadgerKing(0) |
| | Exclusivity should be a non-issue. Most of us don't care if it's "limited". The main draw of a set is because it looks awesome and we want to build it. Period. Please stop with this ridi... |
| | (882 days ago, 2021-07-07, to Designer Program) |
| | Re: BrickLink Designer Program Round 1 - Jaabo(5008) |
| | Oh wow! Didn't realize it was that bad and I already was disappointed. When first saw the post I thought the Castle was going to be made available more fairly. Why not cancel orders over qty of 2... |
| | (882 days ago, 2021-07-07, to Designer Program) |
| | Re: BrickLink Designer Program Round 1 - LukaMull(15) |
| | I had issue with shipping cost, here on bricklink it said free shipping to Czech republic with Pursuit of flight set, but when ordered from lego.com shipping cost was added. Thank you for answeri... |
| | (882 days ago, 2021-07-08, to Designer Program) |
| | Re: BrickLink Designer Program Round 1 - bentolsky(102) |
| | I totally understand the need to delay delivery on the additional sets. However, for those of us who ordered the castle, when will we receive it? How are we supposed to know if we are in the firs... |
| | (882 days ago, 2021-07-08, to Designer Program) |
| | Re: BrickLink Designer Program Round 1 - Skyhunterd(5) |
| | You might as well not have bothered to say anything. This is insulting. Kickstarters can produce more than 10k but Lego the Mighty has magical glitches (with very round numbers, too) AND ... |
| | (882 days ago, 2021-07-08, to Designer Program) |
| | Re: 브릭링크 디자이너 프로그램 라운드 1 - jaeilcho(94) |
| | I placed an order within a limited quantity and succeeded in making the payment. But I received an order cancellation mail from Lego today. We have announced that we can produce 10,000 castles in... |
| | (882 days ago, 2021-07-08, to Designer Program) |
| | Re: BrickLink Designer Program Round 1 - Zekkounet(115) |
| | Just a shame... "Oh, look, you couldn't get a forest castle ? so we double it and... you still can't get it ! happy ?" So how could you imagine we'd be ok with this ? |
| | (882 days ago, 2021-07-08, to Designer Program) |
| | (Cancelled) - kiwiman(53) |
| | Cancelled |
| | (882 days ago, 2021-07-08, to Designer Program) |
| | Re: BrickLink Designer Program Round 1 - mr.m4ze(35) |
| | So the "solution" for the castle is to not cancel orders that were placed because you guys had a site failure? That doesnt "solve" anything, people still weren't able to order and will be mis... |
| | (882 days ago, 2021-07-08, to Designer Program) |
| | Re: BrickLink Designer Program Round 1 - Imtar(309) |
| | I respect the manner in which Bricklink adresses the problems. Unfortunately this still means that those who ordered more than one Castle in the Forest get to keep theirs, and those who were un... |
| | (882 days ago, 2021-07-08, to Designer Program) |
| | Re: BrickLink Designer Program Round 1 - ZeroOne(326) |
| | Congratulations. It was a difficult task but you succeeded. You have managed to make the situation even worse. Those who wanted the castle will now be even more enraged than before. In addition t... |
| | (882 days ago, 2021-07-08, to Designer Program) |
| | Re: BrickLink Designer Program Round 1 - Tarkur(120) |
| | I think you should have just made all the items who reached 3000 crowdfunders not only the 5 first. Not only were the problems with scalpers but the sets sold too fast that alot of potential inve... |
| | (882 days ago, 2021-07-08, to Designer Program) |
| | 5 of 8 limit - astromedia(15) |
| | Im kinda disapointed you did not addressed that limit of only first 5 sets for each round to be produced (even without that lot of great sets will not make it into "finale" :/) - i was in... |
| | (882 days ago, 2021-07-08, to Designer Program) |
| | UNequal treatment :( - szulja(43) |
| | Hi, BL team, The decision which you made is sad and I am disappointed. From one hand it is great that you are extending first Round to meet customer expectations, but you are admitting that by S... |
| | (882 days ago, 2021-07-08, to Designer Program) |
| | Re: BrickLink Designer Program Round 1 - jonpgale(263) |
| | I'm glad that Lego have responded but can't help but feel that limiting the purchases to 1 will make it even harder for anyone on a country not serviced directly by Shop at Home to get on... |
| | (882 days ago, 2021-07-08, to Designer Program) |
| | (Cancelled) - kiwiman(53) |
| | Cancelled |
| | (882 days ago, 2021-07-08, to Designer Program) |
| | Re: BrickLink Designer Program Round 1 - Quickstone(1613) |
| | Thank You BrickLink![/B] |
| | (882 days ago, 2021-07-08, to Designer Program) |
| | Re: BrickLink Designer Program Round 1 - daveyg(38) |
| | 75% of orders[/U] were for 1 set, not 75% of the sets. I suspect the 'glitch' was all of the multiple orders. How many sets were sold in the 25% of the orders that bought more than one? ... |
| | (882 days ago, 2021-07-08, to Designer Program) |
| | Re: BrickLink Designer Program Round 1 - RockCartel(0) |
| | The suggestion from someone to cancel orders of 2+ isn't ok. When I placed the order I had to add 2 to get free shipping (Lego.com had a min. cart value, and was trying to add $20 shippin... |
| | (882 days ago, 2021-07-08, to Designer Program) |
| | (Cancelled) - Aberration(6) |
| | Cancelled |
| | (882 days ago, 2021-07-08, to Designer Program) |
| | Re: BrickLink Designer Program Round 1 - Aberration(6) |
| | Thank you for listening and trying to fix the problems. There's one problem I didn't see addressed is the incredibly narrow phase 1 window. It seemed like I saw the announcement on a news website... |
| | (882 days ago, 2021-07-08, to Designer Program) |
| | Re: BrickLink Designer Program Round 1 - MCtheATBrickfan(2) |
| | Do you also plan on doing anything about the fact that people are really upset about not getting "real" instructions with the sets? There won't be even a PDF for download??? Building with ... |
| | (882 days ago, 2021-07-08, to Designer Program) |
| | Re: BrickLink Designer Program Round 1 - hitman1985(5) |
| | well, then you should cancel all multiple set orders and release them again. |
| | (882 days ago, 2021-07-08, to Designer Program) |
| | Re: BrickLink Designer Program Round 1 - bitbamboo(54) |
| | Hats off to everyone who has worked towards this answer That retrospective and actions taken go beyond what I was expecting: Everyone (in previous sentence) is awesome Huge Thanks |
| | (882 days ago, 2021-07-08, to Designer Program) |
| | Re: BrickLink Designer Program Round 1 - Donovan_Quick(40) |
| | Honestly, this is an incredibly weak response. The fact it has been received well by some really reinforces how low you have set the bar for expectations around how you would respond. You adm... |
| | (882 days ago, 2021-07-08, to Designer Program) |
| | Re: BrickLink Designer Program Round 1 - arminikonic(155) |
| | So many cry babies, when they get double production, WhY IsNt iT MoRe, i DiDnt GeT oNe. Shut up and be happy you got anything. They didnt have to do any of this. Also raise likit to 2 sets, i wan... |
| | (882 days ago, 2021-07-08, to Designer Program) |
| | Re: BrickLink Designer Program Round 1 - Shintaku(3522) |
| | You wanted people to be happier? You will make people angrier. Considering that it's very difficult to believe that you had a glitch specifically on the most demanded set (what a coinc... |
| | (882 days ago, 2021-07-08, to Designer Program) |
| | Re: BrickLink Designer Program Round 1 - brumdopoder(21) |
| | You guys really did it! Destroyed a nice program. |
| | (882 days ago, 2021-07-08, to Designer Program) |
| | Re: BrickLink Designer Program Round 1 - Arrigo(0) |
| | Just a quick question, I have been unable to order the castle in the forest, basically It was already sold out when I turned on the laptop... would I be able to order it considering you will ... |
| | (882 days ago, 2021-07-08, to Designer Program) |
| | Re: BrickLink Designer Program Round 1 - Skyhunterd(5) |
| | If 75 people buy 1 Lego Brick and 25 buy 5 each, where has the majority of the bricks gone? Considerate fans or scalpers? |
| | (882 days ago, 2021-07-08, to Designer Program) |
| | Re: BrickLink Designer Program Round 1 - CaptainHobbit(11) |
| | So because of a glitch you decide to make twice as many sets available… Good for those extra 5,000 who got the Castle in the Forest and those who want any other set from the Program, but bad for ... |
| | (882 days ago, 2021-07-08, to Designer Program) |
| | Re: BrickLink Designer Program Round 1 - Teup(6459) |
| | [...] Wow. Came to the forum and it's just non stop rants about this thing. Glad to see Bricklink managed to create some problems for itself with some side project.. would be a shame if the ... |
| | (882 days ago, 2021-07-08, to Designer Program) |
| | Re: BrickLink Designer Program Round 1 - phatlego(157) |
| | "Limited" edition favors the scalpers/scumbags looking to make a quick buck with minimal effort due to intrinsic laziness/greed. Come on, let's face it, the set people want this round the mo... |
| | (882 days ago, 2021-07-08, to Designer Program) |
| | Re: BrickLink Designer Program Round 1 - JBBrickFanatic(254) |
| | [...] I'm confused.[/B] Can we not order a castle set on August 1st? That was literally the biggest issue; people want more of the castle set made. HELP! |
| | (882 days ago, 2021-07-08, to Designer Program) |
| | Re: BrickLink Designer Program Round 1 - Stahlski1133(39) |
| | This is a sorry sad response. If a "glitch" somehow sold an extra 5k of the castle set, than make another 10k. What is the down side here? More money? Make all of us who are unhappy, happy? Brick... |
| | (882 days ago, 2021-07-08, to Designer Program) |
| | Re: BrickLink Designer Program Round 1 - yorbrick(1170) |
| | Seeing as there are lots of do it this way type posts ... Why not give priority to actual BRICKLINK users. Anyone involved in 10000 or more orders (as buyer or seller) gets invited to... |
| | (882 days ago, 2021-07-08, to Designer Program) |
| | Re: BrickLink Designer Program Round 1 - PSYOPS(367) |
| | Ridicolo! [...] |
| | (882 days ago, 2021-07-08, to Designer Program) |
| | Re: BrickLink Designer Program Round 1 - altworld(80) |
| | Might as well rename the Designer program for Scalpers only, guarentee barely any Lego fans got hold of the Forrest Castle. You hurt your brand, the program and the fans with your lack of foresig... |
| | (882 days ago, 2021-07-08, to Designer Program) |
| | Re: BrickLink Designer Program Round 1 - ben56k(4) |
| | still no castle of the forest available... |
| | (882 days ago, 2021-07-08, to Designer Program) |
| | Re: BrickLink Designer Program Round 1 - mariachibricks(1) |
| | The news are dissapointing, how come is good news for the castle in the forest to increase the amount of sets to produce but cannot place any order. Please consider producing more. [...] |
| | (882 days ago, 2021-07-08, to Designer Program) |
| | Re: BrickLink Designer Program Round 1 - SergiLego(223) |
| | Total disappointed with this answer from Bricklink. In the same way as LEGO Group they are not able to address the problem properly. Please, listen to us (customers) properly: The main ... |
| | (882 days ago, 2021-07-08, to Designer Program) |
| | Re: BrickLink Designer Program Round 1 - brickerking(1709) |
| | I could be wrong, but I'm pretty sure that over 50% of the disappointment is for those who wanted to purchase the castle in the forest and could not. So that means BL's urgent response to... |
| | (882 days ago, 2021-07-08, to Designer Program) |
| | Re: BrickLink Designer Program Round 1 - SergiLego(223) |
| | Total disappointed with this answer from Bricklink. In the same way as LEGO Group they are not able to address the problem properly. Please, listen to us (customers) properly: The main ... |
| | (882 days ago, 2021-07-08, to Designer Program) |
| | Re: BrickLink Designer Program Round 1 - sab04(32) |
| | Dear Team, The simple way to fix this inconvenient is launching the castle theme, new wave of sets, new factions, minifigures, castles, forestmen etc and we all the fans would be happy, nobody... |
| | (882 days ago, 2021-07-08, to Designer Program) |
| | Re: BrickLink Designer Program Round 1 - tons_of_bricks(12279) |
| | GOOD GRIEF EVERYONE!! Complain, complain, complain. That's almost all I see here. Does anything make you happy?? What do you want, Lego to give you 5 copies for free? Deliver them tomorrow? Y... |
| | (882 days ago, 2021-07-08, to Designer Program) |
| | Re: BrickLink Designer Program Round 1 - plastiqmanb(32) |
| | Thank you for trying to curb scalpers! No bots either, put up a capcha or whatever they're using now to prevent others taking advantage of the program. |
| | (882 days ago, 2021-07-08, to Designer Program) |
| | Re: BrickLink Designer Program Round 1 - shawnxyz(394) |
| | I think more people care about actually being able to buy a cool set than exclusivity. Exclusivity effects only a very small group of scalpers and a few folks collecting to resale years later. 9... |
| | (882 days ago, 2021-07-08, to Designer Program) |
| | Re: BrickLink Designer Program Round 1 - Arrvilohr(37) |
| | Although a nice response to many of the issues, people like me hoping to get a chance to get a Castle in the Forest set are left in the cold... Extending the limit to 10.000 doesn't help me o... |
| | (882 days ago, 2021-07-08, to Designer Program) |
| | Re: BrickLink Designer Program Round 1 - gregdoh(129) |
| | Yes, my fault for relying on my slow internet to try to purchase the Castle in the Forest. I voted for the set a long time ago and was 1 of a few sets I was looking forward to purchasing this yea... |
| | (882 days ago, 2021-07-08, to Designer Program) |
| | Re: BrickLink Designer Program Round 1 - GaetanoLEGO(18) |
| | [...] This is so disappointing. I am a Lego fan but this is joking with us. If 10000 castle set were sold with a 5 per user limit, it's not our fault. |
| | (882 days ago, 2021-07-08, to Designer Program) |
| | Re: BrickLink Designer Program Round 1 - shawnxyz(394) |
| | I was thinking... This is a Bricklink program. But, actually, in my mind, it's not Bricklink I'm irritated at for not being able to get the castle, it's TLG. I suppose this actually... |
| | (881 days ago, 2021-07-08, to Designer Program) |
| | Re: BrickLink Designer Program Round 1 - caswenson5(16) |
| | I followed this program for months, it's extremely disappointing I'm not able to purchase the castle simply because it sold out in 35 minutes. |
| | (881 days ago, 2021-07-08, to Designer Program) |
| | Re: BrickLink Designer Program Round 1 - tEoS(5297) |
| | I think the easiest way for Lego to resolve the issue surrounding the castle is to produce this Lego Ideas set. It is similar enough (Forestmen) that I think fans will be reasonably cont... |
| | (881 days ago, 2021-07-08, to Designer Program) |
| | Re: BrickLink Designer Program Round 1 - anteragnar(22) |
| | At least be deaccent and put out a poll where people can mark witch set they want.[/B] Then you get more accurate numbers. and se how many more castle sets need to be released. Fixing stuff to... |
| | (881 days ago, 2021-07-08, to Designer Program) |
| | Re: BrickLink Designer Program Round 1 - Intameticus(6) |
| | This is a big step in the right direction, but personally I'm still miffed about the Castle in the Forest set. There's clearly an extremely high demand, and while I understand that produc... |
| | (881 days ago, 2021-07-08, to Designer Program) |
| | Re: BrickLink Designer Program Round 1 - d12mka(247) |
| | Ridiculous decision for Lego to follow all these angry fans. Why people must wait now 6 months more while sets are produced ? Where all these angry fans were before ? It was known that set number... |
| | (881 days ago, 2021-07-08, to Designer Program) |
| | Re: BrickLink Designer Program Round 1 - martintierney10(23) |
| | What a load of rubbish. I was online and ready to order the castle set a couple of minutes after it went live and it immediately went sold out. And you're making additional sets for people who ma... |
| | (881 days ago, 2021-07-08, to Designer Program) |
| | Re: BrickLink Designer Program Round 1 - jcarlon(132) |
| | Bricklink you have done a great job at addressing the complaints. I can't believe some of the comments here now with people still not happy and whining. Even with some comments stating if the... |
| | (881 days ago, 2021-07-08, to Designer Program) |
| | Re: BrickLink Designer Program Round 1 - arminikonic(155) |
| | i think this all is a good idea, sucks for the people who cant get more castles, but you have to understand, times were announced a long time ago, so was the quantity. when a item is sold out in ... |
| | (881 days ago, 2021-07-08, to Designer Program) |
| | Re: BrickLink Designer Program Round 1 - brickerking(1709) |
| | [...] Does this mean there was duplication in the orders? Or that buyers were able to buy more than the 5-set limit? Or just that 5,000 more orders came in from different buyers? Seems odd to ha... |
| | (881 days ago, 2021-07-08, to Designer Program) |
| | Re: BrickLink Designer Program Round 1 - Karmalink(357) |
| | Maybe sent refunds to the people hoarding the sets so more people can order theirs. |
| | (881 days ago, 2021-07-08, to Designer Program) |
| | Re: BrickLink Designer Program Round 1 - TheBrokeBrick(343) |
| | Ah. So this is why I've likely received no email confirmation on my Castle. Because I ordered "THE GLITCH". :) [...] |
| | (881 days ago, 2021-07-08, to Designer Program) |
| | Re: BrickLink Designer Program Round 1 - Yergin(101) |
| | Should limit to 2 maximum and then cancel all orders in Round 1 that are above that limit. |
| | (881 days ago, 2021-07-09, to Designer Program) |
| | Re: BrickLink Designer Program Round 1 - PurpleKangaroo(136) |
| | I am extremely impressed and pleasantly surprised at the humility, transparency, and efficiency that the Bricklink team has exhibited with this announcement regarding the future of the Bricklink ... |
| | (881 days ago, 2021-07-09, to Designer Program) |
| | Re: BrickLink Designer Program Round 1 - Tillaes(3) |
| | Seriously, no access to the Castle in the Forest set, because of server issues (which you admitted). But your solution is: "do not care". [...] |
| | (881 days ago, 2021-07-09, to Designer Program) |
| | Re: BrickLink Designer Program Round 1 - Bricks_All_Over(17154) |
| | TOTALLY agree with you for the limits set up ONE PER member but it WON'T WORK... nothing will prevent a USER/member to ask friends or family members and so on to have a also a set sent to ... |
| | (881 days ago, 2021-07-09, to Designer Program) |
| | Re: BrickLink Designer Program Round 1 - AmazinCraz3(38) |
| | The lack of a Bionicle victory was another mistake, probably not entirely Lego's fault, but without continuation of Bionicle of any kind, I feel no need to continue any support for this compa... |
| | (881 days ago, 2021-07-09, to Designer Program) |
| | Re: BrickLink Designer Program Round 1 - aFanofMars(2) |
| | Why even limit the number of orders? Wouldn't it make more sense to just let everyone preorder for a day or two, then round that number up to a production run and keep the excess for the archives... |
| | (881 days ago, 2021-07-09, to Designer Program) |
| | Re: BrickLink Designer Program Round 1 - airblaster82(26) |
| | this does not explain why when I tried to order only around 3500 sets had been sold, but the item was "sold out in your country" (germany)... why did that happen? it's even more fru... |
| | (880 days ago, 2021-07-09, to Designer Program) |
| | Re: BrickLink Designer Program Round 1 - Rarah(553) |
| | I agree with the increased 10000 production of each set but I do not agree with 1 set per customer because some tiny portion of people ordered 5 of each in the first 10 minutes. I mean for bigger... |
| | (880 days ago, 2021-07-09, to Designer Program) |
| | Re: BrickLink Designer Program Round 1 - Pharesmm(24) |
| | So I would like to know what will be done about my Sherif's safe order that lego says was canceled because it was placed after sets had out. I ordered though when Bricklink still showed about 150... |
| | (880 days ago, 2021-07-09, to Designer Program) |
| | Re: BrickLink Designer Program Round 1 - Markjashford(1) |
| | Bricklink. You have clearly listened to disappointed users and taken action. However it is clear from the number of postings below that you have not yet gone quite far enough. The Castle was by... |
| | (880 days ago, 2021-07-10, to Designer Program) |
| | Re: BrickLink Designer Program Round 1 - Skyhunterd(5) |
| | We hear that you want to buy Castle and we offer you peasants the opportunity to buy anything but Castle. You can even go to your local store and buy Minions and Trolls World Tour instead. -Our ... |
| | (880 days ago, 2021-07-10, to Designer Program) |
| | Re: BrickLink Designer Program Round 1 - tons_of_bricks(12279) |
| | I think it's kind of funny that all this complaining about the limit of 5,000 (now 10,000) is happening after the castle sold out. They told us months ahead of time of this limit, and... |
| | (880 days ago, 2021-07-10, to Designer Program) |
| | Re: BrickLink Designer Program Round 1 - RRO1977(76) |
| | Thank you BL for this feedback and I understand the points and approach. I don't agree with the Limit of 1 item! I am a collector and ordered 2 of each set; one for building and one for the c... |
| | (880 days ago, 2021-07-10, to Designer Program) |
| | Re: BrickLink Designer Program Round 1 - ricerrican(34) |
| | Super disappointed Tried shortly after it opened (30-40 min) to buy the castle, not an option. Increasing the number of produced sets to fill glitch orders does nothing for us genuine ... |
| | (879 days ago, 2021-07-10, to Designer Program) |
| | Re: BrickLink Designer Program Round 1 - molten.brick(11) |
| | Two sets per customer* - one to build, and one to invest in. [...] |
| | (879 days ago, 2021-07-10, to Designer Program) |
| | Re: BrickLink Designer Program Round 1 - on Ebay - StephenB76(417) |
| | Dear All, There is a potential way to free up some castle in the forests, as I have just gone through eBay's selling policy and it states for Pre-Sale items (like these) Presale l... |
| | (879 days ago, 2021-07-10, to Designer Program) |
| | Re: BrickLink Designer Program Round 1 - DoggoDoge(0) |
| | This entire pre-order system is a complete dumpster fire. You make only a 5k cap for the fan favorite set of the round, "Castle in the Forest" I'm not that interested in this set, but being i... |
| | (879 days ago, 2021-07-11, to Designer Program) |
| | Re: BrickLink Designer Program Round 1 - cucflek_(0) |
| | Absolutly not fair with the castle build. It was aviable but not in my country ! So how can glitch make 10 000 orders? And why you want to deliver all 10 000 ? You should delivered max 3 pcs per ... |
| | (879 days ago, 2021-07-11, to Designer Program) |
| | (Cancelled) - legoception(43) |
| | Cancelled |
| | (879 days ago, 2021-07-11, to Designer Program) |
| | Re: BrickLink Designer Program Round 1 - legoception(43) |
| | increase the number of castle sets to 15000! 5000 extra in August, of which each buyer can only buy 1. many people would be grateful to you! the bug in the program is not our fault, so 5000 extra... |
| | (879 days ago, 2021-07-11, to Designer Program) |
| | Re: BrickLink Designer Program Round 1 - NegroCaballo(107) |
| | > Unfortunately, in the current LEGO.com setup we are not able to ship to additional countries.[/B] This is pathetic coming from Bricklink, whose merchants sell all over the world, and I... |
| | (879 days ago, 2021-07-11, to Designer Program) |
| | Re: BrickLink Designer Program Round 1 - Teup(6459) |
| | I have no interest whatsoever in this Designer Program so I ignored everything about it, so forgive the absolute n00b question guys, but what actually is the difference between the Designer Progr... |
| | (879 days ago, 2021-07-11, to Designer Program) |
| | Re: BrickLink Designer Program Round 1 - foxkitty(5) |
| | I am disappointed by the one set limit. I like to buy a set for myself but often buy a second as a gift. Also, I use a family member's LEGO ID on the rare occasion that I buy from LEGO.com - ... |
| | (879 days ago, 2021-07-11, to Designer Program) |
| | Re: BrickLink Designer Program Round 1 - Laiden(0) |
| | Yep. The castle is already on ebay. Extremely disappointed in Lego on this one. Everyone wants the castle. Open the castle to another 5000 orders. I don't care if i have to wait till 2023. Co... |
| | (878 days ago, 2021-07-11, to Designer Program) |
| | Re: BrickLink Designer Program Round 1 - _fe_(9) |
| | Why has to be there any exclusivity for these sets? Wouldn't the designers and manufactures be interested in selling as much as possible? Or is this form of artificial shortage just a way to ... |
| | (877 days ago, 2021-07-12, to Designer Program) |
| | Re-Selling? - Runescope(365) |
| | I have what may be a silly question (I don't always think normally, so bear with me please): When you were talking about the limits of five per customer and how you're going to... |
| | (877 days ago, 2021-07-12, to Designer Program) |
| | Re: BrickLink Designer Program Round 1 - uzifr(0) |
| | I don't understand. People want this so bad. You can make some legit money and make people happy ? Why don't you ? Instead produce Ideas set nobody wants … I tried on first day and didn't succee... |
| | (877 days ago, 2021-07-12, to Designer Program) |
| | Re: BrickLink Designer Program Round 1 - PurpleDot(5) |
| | i think they should limit it to 2 per customer not 5 i would bet that most of the 5 orders are going to the secondary market not a single household |
| | (877 days ago, 2021-07-12, to Designer Program) |
| | Re: BrickLink Designer Program Round 1 - RonnyNussbaum(34) |
| | There was a way to end this situation better than this... Cancel all the orders and restart the process to give everyone a fair chance. There's no reason why you couldn't do that sinc... |
| | (877 days ago, 2021-07-12, to Designer Program) |
| | Re: BrickLink Designer Program Round 1 - Osprey(242) |
| | [...] I'd like to add my voice to the requests to open for additional Castle in the Forest set orders and I am willing to pay in full now and wait extra time for my order to be fulfilled. Th... |
| | (877 days ago, 2021-07-12, to Designer Program) |
| | Re: BrickLink Designer Program Round 1 - cww1070(32) |
| | My order was canceled -> changed to 'in progress' -> canceled again without any notice. What are you doing? [...] |
| | (877 days ago, 2021-07-13, to Designer Program) |
| | Re: BrickLink Designer Program Round 1 - Marina108(31) |
| | Regarding shipping-if you did not know EU is considered single market/country, so to exclude just a few members from shipping (Croatia, Romania, Bulgaria...) is just a clear case of DISCR... |
| | (877 days ago, 2021-07-13, to Designer Program) |
| | Re: BrickLink Designer Program Round 1 - legomogul(15) |
| | Awesome response! Thank you so much Bricklink - seems super fair and I look forward to trying for a fishing boat or safe on August 3rd! |
| | (877 days ago, 2021-07-13, to Designer Program) |
| | Re: BrickLink Designer Program Round 1 - Leftoverbricks(2188) |
| | For anyone who missed out on Castle in the Forest, go to your local shop and buy [S=31120-1] Waaaayyy cheaper than the LEGO Designer one, almost the same size, and you get printed instructions ... |
| | (877 days ago, 2021-07-13, to Designer Program) |
| | Re: BrickLink Designer Program Round 1 - aaronus(162) |
| | This cannot be your decision. This is unacceptable. I want to buy a Castle in the Forest set, and you're denying me the chance. This set is clearly the most popular of the five and should ... |
| | (876 days ago, 2021-07-13, to Designer Program) |
| | Re: BrickLink Designer Program Round 1 - Hawmoon(13) |
| | By my humble Pitt point of view we didn't need an orbuculum to predict that a castle theme that reached 10k on Lego Ideas in a short amount of time, would have needed an higher cap. As wel... |
| | (876 days ago, 2021-07-14, to Designer Program) |
| | Re: BrickLink Designer Program Round 1 - relhak(8957) |
| | These are being packed at the Lego factory like a normal set, instead of hand picking every set like the prior BL sets, right? So just remove the purchase limits and set a reasonable time to get... |
| | (876 days ago, 2021-07-14, to Designer Program) |
| | (Cancelled) - ALEBANAX77(15) |
| | Cancelled |
| | (876 days ago, 2021-07-14, to Designer Program) |
| | Re: BrickLink Designer Program Round 1 - atraz221(14) |
| | [...] |
| | (876 days ago, 2021-07-14, to Designer Program) |
| | Re: BrickLink Designer Program Round 1 - tukeetrash(80) |
| | I took the time to complain when this happened so I'd also like to give you credit. Thanks for making changes to the program! |
| | (875 days ago, 2021-07-14, to Designer Program) |
| | (Cancelled) - wettfink(13) |
| | Cancelled |
| | (875 days ago, 2021-07-14, to Designer Program) |
| | Re: BrickLink Designer Program Round 1 - yorbrick(1170) |
| | Does anyone remember the crowd funded, for adults, FORMA sets. They sold 6673 sets during crowd funding. The original BL ADP sets sold 2500 copies each. So I understand the order of magnitude num... |
| | (875 days ago, 2021-07-14, to Designer Program) |
| | (Cancelled) - ALEBANAX77(15) |
| | Cancelled |
| | (875 days ago, 2021-07-15, to Designer Program) |
| | Re: BrickLink Designer Program Round 1 - ALEBANAX77(15) |
| | I would like to add 3 important considerations: - exclusive in my mind means limited and luxury so of high value and cost: in this case if price was 300/350 € for each castle (example) wh... |
| | (875 days ago, 2021-07-15, to Designer Program) |
| | Re: BrickLink Designer Program Round 1 - shumbu(3) |
| | I think BL and Lego should reduce the number of orders for the Castle in the forest so that ppl who ordered, say more than 2 or 1, will have their order reduced to 2 if not 1. That way, there sho... |
| | (875 days ago, 2021-07-15, to Designer Program) |
| | Re: BrickLink Designer Program Round 1 - pace2001(321) |
| | Why does it take so much longer to make additional 5,000 sets? I wanted to get round 2 and round 3 ordered. |
| | (874 days ago, 2021-07-15, to Designer Program) |
| | Re: BrickLink Designer Program Round 1 - Maxxev(221) |
| | Well done, all good changes, unfortunately totally doesn't help me as it was only the castle in the forest that peaked my interest but they were all gone in 30 mins :(. |
| | (873 days ago, 2021-07-16, to Designer Program) |
| | Re: BrickLink Designer Program Round 1 - Laiden(0) |
| | This sucks because as much as i don't want to I'll have to get a clone just so i have the damn set. This is pretty ridiculous. Im willing to buy lego and wait as much time as i have to to... |
| | (873 days ago, 2021-07-17, to Designer Program) |
| | Re: BrickLink Designer Program Round 1 - him86(306) |
| | why is Lego caring about exclusivity all of a sudden? i thought their policy was to make products for everyone to enjoy... why not have a crowdfunding for real where everyone can order within the... |
| | (872 days ago, 2021-07-18, to Designer Program) |
| | Re: BrickLink Designer Program Round 1 - sovietbot(8) |
| | Really disappointed in this response, the only set I wanted was Castle in the Forest and you're not making more of those available. |
| | (870 days ago, 2021-07-19, to Designer Program) |
| | Re: BrickLink Designer Program Round 1 - ichiban110(27) |
| | OK but, what time on Aug 3rd? Please disclose the opening time. [...] |
| | (870 days ago, 2021-07-20, to Designer Program) |
| | Re: BrickLink Designer Program Round 1 - Giulia_Ilaria(5) |
| | Okay, good to know, but how come those of us who pre-ordered a set but didn' t "land" it had no communication from you guys about it? I just found out that I didn' t land it, only thanks ... |
| | (868 days ago, 2021-07-21, to Designer Program) |
| | Re: BrickLink Designer Program Round 1 - Alasiac(0) |
| | Ok, so the new date changes nothing but adds frustration, was also hoping to get a Castle set, but that's the one that won't be available for a second run. Not sure how you set the qua... |
| | (868 days ago, 2021-07-22, to Designer Program) |
| | Re: BrickLink Designer Program Round 1 - ScoundrelAtHear(1) |
| | Funny thing that so many orders could be made. I tried to order the castle at the starting date, already 2500 orders where showing. The system told me that the maximum orders for my country (... |
| | (867 days ago, 2021-07-23, to Designer Program) |
| | Re: BrickLink Designer Program Round 1 - HAmmEz125(3) |
| | [...] |
| | (866 days ago, 2021-07-23, to Designer Program) |
| | Re: BrickLink Designer Program Round 1 - kiwiman(53) |
| | WHAT A JOKE...... [...] |
| | (866 days ago, 2021-07-23, to Designer Program) |
| | Re: BrickLink Designer Program Round 1 - whataslacker(326) |
| | Everything about this was handled wrong from the beginning and excluding the Castle on the second run is worse than the initial debacle. [/B] |
| | (862 days ago, 2021-07-27, to Designer Program) |
| | Re: BrickLink Designer Program Round 1 - RyanShort1(291) |
| | I ordered Pursuit of Flight, you have the receipts… so you know I and others are serious. This is a complete failure to address the Castle deal. I learned enough from the Castle *Debacle* to log... |
| | (862 days ago, 2021-07-27, to Designer Program) |
| | Re: BrickLink Designer Program Round 1 - BrickfinderSG(134) |
| | What is the bloody point of sending me this when you don't even ship to my country? You are completely disregarding all your loyal fans in Asia especially since you used to be able to ship to us ... |
| | (862 days ago, 2021-07-27, to Designer Program) |
| | Re: BrickLink Designer Program Round 1 - junggeun(3) |
| | Eventually, I'll have to pay $80 on eBay. The conclusion is the same, but something has changed. |
| | (862 days ago, 2021-07-27, to Designer Program) |
| | Re: BrickLink Designer Program Round 1 - p.t.a(61) |
| | It is sad that what once used to be an international program now become exclusive to the very few. I got some set during the previous program with free international delivery. But apparently it h... |
| | (862 days ago, 2021-07-27, to Designer Program) |
| | Re: BrickLink Designer Program Round 1 - ColinD(30) |
| | Using Lego.com and only shipping to a limited number of customers is simply not good enough. We have a vibrant and enthusiastic AFOL community here in South Africa which is being neglected. |
| | (862 days ago, 2021-07-28, to Designer Program) |
| | Re: BrickLink Designer Program Round 1 - legohorder(338) |
| | can anyone confirm the time these will come live in California?..would 12:00 p.m. not be noon in California?.should it be 12:00 a.m.?..so that it would be right at when it changes to being the 3r... |
| | (861 days ago, 2021-07-28, to Designer Program) |
| | Re: BrickLink Designer Program Round 1 - craigplizga(14) |
| | This whole castle in the forest debacle could have been avoided if lego ideas had just given its fans the set they wanted.. It would have sold better than barracuda bay... lego sucks! |
| | (857 days ago, 2021-08-02, to Designer Program) |
| | Re: BrickLink Designer Program Round 2 - bernardcholland(1) |
| | How do you find the order section for the Kakapo? [...] |
| | (856 days ago, 2021-08-02, to Designer Program) |
| | Re: BrickLink Designer Program Round 1 - craigvr(76) |
| | Please consider adding Castle in the Forest to Round2 or Round 3 |
| | (856 days ago, 2021-08-03, to Designer Program) |
| | Re: BrickLink Designer Program Round 1 - greenguitarguy(67) |
| | Why can't you open Castle In The Forest up for more orders? The other 4 sets have only reached 3,000 out of 5,000 pre-orders and yet you open them up for 10,000. It appears you misunderstan... |
| | (856 days ago, 2021-08-03, to Designer Program) |
| | Re: BrickLink Designer Program Round 1 - legojoeuk(10) |
| | I had my order cancelled even though I only ordered 1 boat and 1 safe. Such a shame, as I went on at 8pm and got there quickly. Ordered processed fine, but Lego cancelled saying I had exceeded ... |
| | (855 days ago, 2021-08-03, to Designer Program) |
| | Re: BrickLink Designer Program Round 1 - BrickFan2424(0) |
| | Seems like the last three sets have stalled on preorders. Don't get me wrong, they are all great, but this shows that BrickLink should have listened more carefully. What most people were comp... |
| | (850 days ago, 2021-08-08, to Designer Program) |
| | Re: BrickLink Designer Program Round 1 - sololantern(0) |
| | [...] Ordered, and was charged at point of purchase. I hope, a. My order went through and won't be cancelled, and b. I dont try to get double charged. |
| | (835 days ago, 2021-08-23, to Designer Program) |
| | Re: BrickLink Designer Program Round 1 - Snyxx(1) |
| | When will round 2 start? [...] |
| | (832 days ago, 2021-08-26, to Designer Program) |
487 Messages in this Thread:

Msg 1 « - Admin, 882 days ago, 2021-07-07 to Designer Program



Msg 2 - popsicle(6563)

, 882 days ago, 2021-07-07 to Designer Program




Msg 3 - Admin_Russell, 882 days ago, 2021-07-07 to Designer Program





Msg 4 - popsicle(6563)

, 882 days ago, 2021-07-07 to Designer Program



Msg 5 - Brickitty(5630)

, 882 days ago, 2021-07-07 to Designer Program



Msg 6 - Thespian70(110)

, 882 days ago, 2021-07-07 to Designer Program



Msg 7 - Brekli(182)

, 882 days ago, 2021-07-07 to Designer Program




Msg 8 - eastawat(90)

, 882 days ago, 2021-07-08 to Designer Program




Msg 9 - eastawat(90)

, 882 days ago, 2021-07-08 to Designer Program



Msg 10 - RedBeardDan(1895)

, 882 days ago, 2021-07-07 to Designer Program



Msg 11 - Chiaroscuro(105)

, 882 days ago, 2021-07-07 to Designer Program



Msg 12 - Gaides(109)

, 882 days ago, 2021-07-07 to Designer Program



Msg 13 - The_Collect0r(71)

, 882 days ago, 2021-07-07 to Designer Program



Msg 14 - STARHAWK(108)

, 882 days ago, 2021-07-07 to Designer Program




Msg 15 - wettfink(13)

, 882 days ago, 2021-07-07 to Designer Program




Msg 16 - cboyse(43)

, 882 days ago, 2021-07-07 to Designer Program





Msg 17 - Elkenwood(170)

, 882 days ago, 2021-07-07 to Designer Program






Msg 18 - cboyse(43)

, 882 days ago, 2021-07-08 to Designer Program





Msg 19 - STARHAWK(108)

, 882 days ago, 2021-07-08 to Designer Program






Msg 20 - wettfink(13)

, 882 days ago, 2021-07-08 to Designer Program




Msg 21 - papluh(36)

, 882 days ago, 2021-07-07 to Designer Program





Msg 22 - Legorama(110)

, 881 days ago, 2021-07-08 to Designer Program






Msg 23 - papluh(36)

, 881 days ago, 2021-07-09 to Designer Program




Msg 24 - EvansFamilyLego(43)

, 879 days ago, 2021-07-10 to Designer Program




Msg 25 - tEoS(5297)

, 879 days ago, 2021-07-10 to Designer Program





Msg 26 - papluh(36)

, 879 days ago, 2021-07-11 to Designer Program






Msg 27 - popsicle(6563)

, 879 days ago, 2021-07-11 to Designer Program



Msg 28 - Mailman(521)

, 882 days ago, 2021-07-07 to Designer Program




Msg 29 - psusaxman2000(284)

, 882 days ago, 2021-07-07 to Designer Program



Msg 30 - masopaso(47)

, 882 days ago, 2021-07-07 to Designer Program




Msg 31 - STARHAWK(108)

, 882 days ago, 2021-07-07 to Designer Program



Msg 32 - Mailman(521)

, 882 days ago, 2021-07-07 to Designer Program



Msg 33 - amvdamian(390)

, 882 days ago, 2021-07-07 to Designer Program




Msg 34 - yorbrick(1170)

, 882 days ago, 2021-07-08 to Designer Program



Msg 35 - Mailman(521)

, 882 days ago, 2021-07-07 to Designer Program



Msg 36 - Horse25(17)

, 882 days ago, 2021-07-07 to Designer Program



Msg 37 - Cashmoney6, 882 days ago, 2021-07-07 to Designer Program




Msg 38 - randyipp(3367)

, 882 days ago, 2021-07-07 to Designer Program





Msg 39 - arminikonic(155)

, 882 days ago, 2021-07-08 to Designer Program




Msg 40 - yorbrick(1170)

, 882 days ago, 2021-07-08 to Designer Program




Msg 41 - Laiden, 878 days ago, 2021-07-11 to Designer Program



Msg 42 - Elberik(484)

, 882 days ago, 2021-07-07 to Designer Program




Msg 43 - SylvainLS(44)

, 882 days ago, 2021-07-08 to Designer Program




Msg 44 - shawnxyz(394)

, 882 days ago, 2021-07-08 to Designer Program



Msg 45 - babyboybricks(154)

, 882 days ago, 2021-07-07 to Designer Program



Msg 46 - babyboybricks(154)

, 882 days ago, 2021-07-07 to Designer Program



Msg 47 - bluesfier(9), 882 days ago, 2021-07-07 to Designer Program




Msg 48 - KrazyGhost(102)

, 882 days ago, 2021-07-07 to Designer Program



Msg 49 - KrazyGhost(102)

, 882 days ago, 2021-07-07 to Designer Program



Msg 50 - JonMKnight(1), 882 days ago, 2021-07-07 to Designer Program




Msg 51 - jcarlon(132)

, 881 days ago, 2021-07-08 to Designer Program




Msg 52 - Eli_n_Me(11)

, 881 days ago, 2021-07-08 to Designer Program




Msg 53 - relhak(8957)

, 876 days ago, 2021-07-14 to Designer Program



Msg 54 - dreambuilder71(1112)

, 882 days ago, 2021-07-07 to Designer Program




Msg 55 - psusaxman2000(284)

, 882 days ago, 2021-07-07 to Designer Program





Msg 56 - STARHAWK(108)

, 882 days ago, 2021-07-08 to Designer Program






Msg 57 - psusaxman2000(284)

, 882 days ago, 2021-07-08 to Designer Program






Msg 58 - papluh(36)

, 882 days ago, 2021-07-08 to Designer Program






Msg 59 - wettfink(13)

, 882 days ago, 2021-07-08 to Designer Program



Msg 60 - rlegault(21)

, 882 days ago, 2021-07-07 to Designer Program




Msg 61 - gideon84(1086)

, 882 days ago, 2021-07-07 to Designer Program





Msg 62 - SylvainLS(44)

, 882 days ago, 2021-07-08 to Designer Program






Msg 63 - gideon84(1086)

, 882 days ago, 2021-07-08 to Designer Program







Msg 64 - yorbrick(1170)

, 882 days ago, 2021-07-08 to Designer Program








Msg 65 - psusaxman2000(284)

, 882 days ago, 2021-07-08 to Designer Program




Msg 66 - tons_of_bricks(12279)

, 882 days ago, 2021-07-08 to Designer Program





Msg 67 - wettfink(13)

, 882 days ago, 2021-07-08 to Designer Program






Msg 68 - tons_of_bricks(12279)

, 881 days ago, 2021-07-08 to Designer Program







Msg 69 - wettfink(13)

, 881 days ago, 2021-07-08 to Designer Program







Msg 70 - wettfink(13)

, 881 days ago, 2021-07-08 to Designer Program




Msg 71 - shawnxyz(394)

, 882 days ago, 2021-07-08 to Designer Program





Msg 72 - yorbrick(1170)

, 881 days ago, 2021-07-08 to Designer Program



Msg 73 - CCME(573)

, 882 days ago, 2021-07-07 to Designer Program



Msg 74 - dfmswm(207)

, 882 days ago, 2021-07-07 to Designer Program




Msg 75 - Brekli(182)

, 882 days ago, 2021-07-07 to Designer Program



Msg 76 - 111insanedane(1412)

, 882 days ago, 2021-07-07 to Designer Program



Msg 77 - arminikonic(155)

, 882 days ago, 2021-07-07 to Designer Program



Msg 78 - ParkerF(84)

, 882 days ago, 2021-07-07 to Designer Program




Msg 79 - psusaxman2000(284)

, 882 days ago, 2021-07-07 to Designer Program





Msg 80 - wettfink(13)

, 882 days ago, 2021-07-08 to Designer Program






Msg 81 - SylvainLS(44)

, 882 days ago, 2021-07-08 to Designer Program







Msg 82 - peregrinator(698)

, 882 days ago, 2021-07-08 to Designer Program








Msg 83 - SylvainLS(44)

, 882 days ago, 2021-07-08 to Designer Program







Msg 84 - wettfink(13)

, 882 days ago, 2021-07-08 to Designer Program








Msg 85 - SylvainLS(44)

, 882 days ago, 2021-07-08 to Designer Program









Msg 86 - wettfink(13)

, 882 days ago, 2021-07-08 to Designer Program










Msg 87 - wettfink(13)

, 881 days ago, 2021-07-08 to Designer Program






Msg 88 - psusaxman2000(284)

, 882 days ago, 2021-07-08 to Designer Program







Msg 89 - wettfink(13)

, 882 days ago, 2021-07-08 to Designer Program








Msg 90 - SylvainLS(44)

, 882 days ago, 2021-07-08 to Designer Program



Msg 91 - BrickFan2424, 882 days ago, 2021-07-07 to Designer Program




Msg 92 - cboyse(43)

, 882 days ago, 2021-07-07 to Designer Program





Msg 93 - Tarkur(120)

, 882 days ago, 2021-07-08 to Designer Program





Msg 94 - yorbrick(1170)

, 882 days ago, 2021-07-08 to Designer Program




Msg 95 - masopaso(47)

, 882 days ago, 2021-07-08 to Designer Program




Msg 96 - TakkataEB, 879 days ago, 2021-07-10 to Designer Program



Msg 97 - kiwiman(53)

, 882 days ago, 2021-07-07 to Designer Program



Msg 98 - BadgerKing, 882 days ago, 2021-07-07 to Designer Program



Msg 99 - BadgerKing, 882 days ago, 2021-07-07 to Designer Program



Msg 100 - Jaabo(5008)

, 882 days ago, 2021-07-07 to Designer Program



Msg 101 - LukaMull(15)

, 882 days ago, 2021-07-08 to Designer Program




Msg 102 - SylvainLS(44)

, 882 days ago, 2021-07-08 to Designer Program



Msg 103 - bentolsky(102)

, 882 days ago, 2021-07-08 to Designer Program




Msg 104 - SylvainLS(44)

, 882 days ago, 2021-07-08 to Designer Program



Msg 105 - Skyhunterd(5), 882 days ago, 2021-07-08 to Designer Program




Msg 106 - shawnxyz(394)

, 882 days ago, 2021-07-08 to Designer Program





Msg 107 - psusaxman2000(284)

, 881 days ago, 2021-07-08 to Designer Program



Msg 108 - jaeilcho(94)

, 882 days ago, 2021-07-08 to Designer Program



Msg 109 - Zekkounet(115)

, 882 days ago, 2021-07-08 to Designer Program




Msg 110 - psusaxman2000(284)

, 882 days ago, 2021-07-08 to Designer Program



Msg 111 - kiwiman(53)

, 882 days ago, 2021-07-08 to Designer Program



Msg 112 - mr.m4ze(35)

, 882 days ago, 2021-07-08 to Designer Program



Msg 113 - Imtar(309)

, 882 days ago, 2021-07-08 to Designer Program



Msg 114 - ZeroOne(326)

, 882 days ago, 2021-07-08 to Designer Program




Msg 115 - psusaxman2000(284)

, 882 days ago, 2021-07-08 to Designer Program




Msg 116 - tons_of_bricks(12279)

, 882 days ago, 2021-07-08 to Designer Program



Msg 117 - Tarkur(120)

, 882 days ago, 2021-07-08 to Designer Program




Msg 118 - psusaxman2000(284)

, 882 days ago, 2021-07-08 to Designer Program





Msg 119 - Tarkur(120)

, 882 days ago, 2021-07-08 to Designer Program






Msg 120 - psusaxman2000(284)

, 882 days ago, 2021-07-08 to Designer Program







Msg 121 - Tarkur(120)

, 882 days ago, 2021-07-08 to Designer Program



Msg 122 - astromedia(15)

, 882 days ago, 2021-07-08 to Designer Program



Msg 123 - szulja(43)

, 882 days ago, 2021-07-08 to Designer Program




Msg 124 - psusaxman2000(284)

, 882 days ago, 2021-07-08 to Designer Program





Msg 125 - szulja(43)

, 882 days ago, 2021-07-08 to Designer Program






Msg 126 - psusaxman2000(284)

, 882 days ago, 2021-07-08 to Designer Program






Msg 127 - yorbrick(1170)

, 882 days ago, 2021-07-08 to Designer Program





Msg 128 - cboyse(43)

, 881 days ago, 2021-07-08 to Designer Program






Msg 129 - tons_of_bricks(12279)

, 881 days ago, 2021-07-08 to Designer Program






Msg 130 - psusaxman2000(284)

, 881 days ago, 2021-07-08 to Designer Program







Msg 131 - tons_of_bricks(12279)

, 881 days ago, 2021-07-09 to Designer Program








Msg 132 - StephenB76(417)

, 881 days ago, 2021-07-09 to Designer Program








Msg 133 - Tracyd(392)

, 881 days ago, 2021-07-09 to Designer Program









Msg 134 - randyipp(3367)

, 881 days ago, 2021-07-09 to Designer Program










Msg 135 - randyipp(3367)

, 881 days ago, 2021-07-09 to Designer Program











Msg 136 - psusaxman2000(284)

, 881 days ago, 2021-07-09 to Designer Program











Msg 137 - SylvainLS(44)

, 881 days ago, 2021-07-09 to Designer Program












Msg 138 - yorbrick(1170)

, 881 days ago, 2021-07-09 to Designer Program










Msg 139 - psusaxman2000(284)

, 881 days ago, 2021-07-09 to Designer Program










Msg 140 - Tracyd(392)

, 881 days ago, 2021-07-09 to Designer Program









Msg 141 - psusaxman2000(284)

, 881 days ago, 2021-07-09 to Designer Program



Msg 142 - jonpgale(263)

, 882 days ago, 2021-07-08 to Designer Program



Msg 143 - kiwiman(53)

, 882 days ago, 2021-07-08 to Designer Program




Msg 144 - mr.m4ze(35)

, 882 days ago, 2021-07-08 to Designer Program





Msg 145 - kiwiman(53)

, 882 days ago, 2021-07-08 to Designer Program



Msg 146 - Quickstone(1613)

, 882 days ago, 2021-07-08 to Designer Program



Msg 147 - daveyg(38)

, 882 days ago, 2021-07-08 to Designer Program



Msg 148 - RockCartel, 882 days ago, 2021-07-08 to Designer Program




Msg 149 - STARHAWK(108)

, 882 days ago, 2021-07-08 to Designer Program



Msg 150 - Aberration(6), 882 days ago, 2021-07-08 to Designer Program



Msg 151 - Aberration(6), 882 days ago, 2021-07-08 to Designer Program




Msg 152 - yorbrick(1170)

, 882 days ago, 2021-07-08 to Designer Program



Msg 153 - MCtheATBrickfan(2), 882 days ago, 2021-07-08 to Designer Program




Msg 154 - yorbrick(1170)

, 882 days ago, 2021-07-08 to Designer Program





Msg 155 - Eli_n_Me(11)

, 881 days ago, 2021-07-08 to Designer Program






Msg 156 - RedBeardDan(1895)

, 715 days ago, 2021-12-22 to Designer Program







Msg 157 - Pam_Shaver(540)

, 715 days ago, 2021-12-22 to Designer Program







Msg 158 - Pam_Shaver(540)

, 715 days ago, 2021-12-22 to Designer Program








Msg 159 - randyf(442)

, 715 days ago, 2021-12-22 to Designer Program









Msg 160 - Classicsmiley(282)

, 715 days ago, 2021-12-22 to Designer Program










Msg 161 - jennnifer(3470)

, 714 days ago, 2021-12-22 to Designer Program











Msg 162 - Classicsmiley(282)

, 714 days ago, 2021-12-22 to Designer Program








Msg 163 - randyipp(3367)

, 715 days ago, 2021-12-22 to Designer Program









Msg 164 - SylvainLS(44)

, 715 days ago, 2021-12-22 to Designer Program



Msg 165 - hitman1985(5), 882 days ago, 2021-07-08 to Designer Program




Msg 166 - yorbrick(1170)

, 882 days ago, 2021-07-08 to Designer Program





Msg 167 - hitman1985(5), 882 days ago, 2021-07-08 to Designer Program



Msg 168 - bitbamboo(54)

, 882 days ago, 2021-07-08 to Designer Program



Msg 169 - Donovan_Quick(40)

, 882 days ago, 2021-07-08 to Designer Program



Msg 170 - arminikonic(155)

, 882 days ago, 2021-07-08 to Designer Program




Msg 171 - mr.m4ze(35)

, 882 days ago, 2021-07-08 to Designer Program





Msg 172 - arminikonic(155)

, 882 days ago, 2021-07-08 to Designer Program




Msg 173 - shawnxyz(394)

, 881 days ago, 2021-07-08 to Designer Program



Msg 174 - Shintaku(3522)

, 882 days ago, 2021-07-08 to Designer Program




Msg 175 - SylvainLS(44)

, 882 days ago, 2021-07-08 to Designer Program




Msg 176 - gideon84(1086)

, 882 days ago, 2021-07-08 to Designer Program





Msg 177 - psusaxman2000(284)

, 882 days ago, 2021-07-08 to Designer Program





Msg 178 - yorbrick(1170)

, 882 days ago, 2021-07-08 to Designer Program






Msg 179 - gideon84(1086)

, 882 days ago, 2021-07-08 to Designer Program







Msg 180 - yorbrick(1170)

, 882 days ago, 2021-07-08 to Designer Program







Msg 181 - psusaxman2000(284)

, 882 days ago, 2021-07-08 to Designer Program








Msg 182 - STARHAWK(108)

, 882 days ago, 2021-07-08 to Designer Program









Msg 183 - psusaxman2000(284)

, 882 days ago, 2021-07-08 to Designer Program




Msg 184 - psusaxman2000(284)

, 882 days ago, 2021-07-08 to Designer Program




Msg 185 - monkeynut12(4657)

, 881 days ago, 2021-07-08 to Designer Program



Msg 186 - brumdopoder(21)

, 882 days ago, 2021-07-08 to Designer Program



Msg 187 - Arrigo, 882 days ago, 2021-07-08 to Designer Program




Msg 188 - psusaxman2000(284)

, 882 days ago, 2021-07-08 to Designer Program




Msg 189 - masopaso(47)

, 882 days ago, 2021-07-08 to Designer Program



Msg 190 - Skyhunterd(5), 882 days ago, 2021-07-08 to Designer Program




Msg 191 - molten.brick(11)

, 882 days ago, 2021-07-08 to Designer Program




Msg 192 - wettfink(13)

, 882 days ago, 2021-07-08 to Designer Program



Msg 193 - CaptainHobbit(11)

, 882 days ago, 2021-07-08 to Designer Program



Msg 194 - Teup(6459)

, 882 days ago, 2021-07-08 to Designer Program



Msg 195 - phatlego(157)

, 882 days ago, 2021-07-08 to Designer Program




Msg 196 - psusaxman2000(284)

, 882 days ago, 2021-07-08 to Designer Program



Msg 197 - JBBrickFanatic(254)

, 882 days ago, 2021-07-08 to Designer Program




Msg 198 - mr.m4ze(35)

, 882 days ago, 2021-07-08 to Designer Program





Msg 199 - psusaxman2000(284)

, 882 days ago, 2021-07-08 to Designer Program




Msg 200 - yorbrick(1170)

, 882 days ago, 2021-07-08 to Designer Program



Msg 201 - Stahlski1133(39)

, 882 days ago, 2021-07-08 to Designer Program




Msg 202 - yorbrick(1170)

, 882 days ago, 2021-07-08 to Designer Program





Msg 203 - psusaxman2000(284)

, 882 days ago, 2021-07-08 to Designer Program






Msg 204 - yorbrick(1170)

, 882 days ago, 2021-07-08 to Designer Program







Msg 205 - psusaxman2000(284)

, 882 days ago, 2021-07-08 to Designer Program








Msg 206 - yorbrick(1170)

, 882 days ago, 2021-07-08 to Designer Program









Msg 207 - psusaxman2000(284)

, 882 days ago, 2021-07-08 to Designer Program










Msg 208 - wettfink(13)

, 882 days ago, 2021-07-08 to Designer Program











Msg 209 - psusaxman2000(284)

, 882 days ago, 2021-07-08 to Designer Program












Msg 210 - wettfink(13)

, 882 days ago, 2021-07-08 to Designer Program











Msg 211 - peregrinator(698)

, 882 days ago, 2021-07-08 to Designer Program












Msg 212 - wettfink(13)

, 882 days ago, 2021-07-08 to Designer Program



Msg 213 - yorbrick(1170)

, 882 days ago, 2021-07-08 to Designer Program



Msg 214 - PSYOPS(367)

, 882 days ago, 2021-07-08 to Designer Program



Msg 215 - altworld(80)

, 882 days ago, 2021-07-08 to Designer Program




Msg 216 - psusaxman2000(284)

, 882 days ago, 2021-07-08 to Designer Program




Msg 217 - AK_Brickster(381)

, 882 days ago, 2021-07-08 to Designer Program





Msg 218 - psusaxman2000(284)

, 882 days ago, 2021-07-08 to Designer Program






Msg 219 - wettfink(13)

, 882 days ago, 2021-07-08 to Designer Program



Msg 220 - ben56k(4), 882 days ago, 2021-07-08 to Designer Program



Msg 221 - mariachibricks(1), 882 days ago, 2021-07-08 to Designer Program



Msg 222 - SergiLego(223)

, 882 days ago, 2021-07-08 to Designer Program




Msg 223 - psusaxman2000(284)

, 882 days ago, 2021-07-08 to Designer Program



Msg 224 - brickerking(1709)

, 882 days ago, 2021-07-08 to Designer Program



Msg 225 - SergiLego(223)

, 882 days ago, 2021-07-08 to Designer Program



Msg 226 - sab04(32)

, 882 days ago, 2021-07-08 to Designer Program




Msg 227 - psusaxman2000(284)

, 882 days ago, 2021-07-08 to Designer Program





Msg 228 - SylvainLS(44)

, 882 days ago, 2021-07-08 to Designer Program



Msg 229 - tons_of_bricks(12279)

, 882 days ago, 2021-07-08 to Designer Program




Msg 230 - Adjour(2304)

, 882 days ago, 2021-07-08 to Designer Program




Msg 231 - shawnxyz(394)

, 882 days ago, 2021-07-08 to Designer Program





Msg 232 - tons_of_bricks(12279)

, 881 days ago, 2021-07-08 to Designer Program




Msg 233 - jcarlon(132)

, 881 days ago, 2021-07-08 to Designer Program





Msg 234 - tons_of_bricks(12279)

, 881 days ago, 2021-07-09 to Designer Program




Msg 235 - Jaabo(5008)

, 866 days ago, 2021-07-24 to Designer Program





Msg 236 - yorbrick(1170)

, 866 days ago, 2021-07-24 to Designer Program



Msg 237 - plastiqmanb(32)

, 882 days ago, 2021-07-08 to Designer Program




Msg 238 - Tracyd(392)

, 882 days ago, 2021-07-08 to Designer Program





Msg 239 - yorbrick(1170)

, 881 days ago, 2021-07-08 to Designer Program






Msg 240 - SylvainLS(44)

, 881 days ago, 2021-07-08 to Designer Program







Msg 241 - popsicle(6563)

, 881 days ago, 2021-07-08 to Designer Program








Msg 242 - SylvainLS(44)

, 881 days ago, 2021-07-08 to Designer Program









Msg 243 - popsicle(6563)

, 881 days ago, 2021-07-08 to Designer Program






Msg 244 - Tracyd(392)

, 881 days ago, 2021-07-08 to Designer Program



Msg 245 - shawnxyz(394)

, 882 days ago, 2021-07-08 to Designer Program



Msg 246 - Arrvilohr(37)

, 882 days ago, 2021-07-08 to Designer Program



Msg 247 - gregdoh(129)

, 882 days ago, 2021-07-08 to Designer Program



Msg 248 - GaetanoLEGO(18)

, 882 days ago, 2021-07-08 to Designer Program



Msg 249 - shawnxyz(394)

, 881 days ago, 2021-07-08 to Designer Program



Msg 250 - caswenson5(16)

, 881 days ago, 2021-07-08 to Designer Program




Msg 251 - amvdamian(390)

, 881 days ago, 2021-07-08 to Designer Program





Msg 252 - gabgenqc(163)

, 881 days ago, 2021-07-08 to Designer Program




Msg 253 - arminikonic(155)

, 881 days ago, 2021-07-08 to Designer Program



Msg 254 - tEoS(5297)

, 881 days ago, 2021-07-08 to Designer Program



Msg 255 - anteragnar(22)

, 881 days ago, 2021-07-08 to Designer Program




Msg 256 - Tracyd(392)

, 881 days ago, 2021-07-08 to Designer Program




Msg 257 - amvdamian(390)

, 881 days ago, 2021-07-08 to Designer Program





Msg 258 - gideon84(1086)

, 881 days ago, 2021-07-08 to Designer Program





Msg 259 - psusaxman2000(284)

, 881 days ago, 2021-07-08 to Designer Program



Msg 260 - Intameticus(6), 881 days ago, 2021-07-08 to Designer Program



Msg 261 - d12mka(247)

, 881 days ago, 2021-07-08 to Designer Program




Msg 262 - wettfink(13)

, 881 days ago, 2021-07-08 to Designer Program



Msg 263 - martintierney10(23)

, 881 days ago, 2021-07-08 to Designer Program



Msg 264 - jcarlon(132)

, 881 days ago, 2021-07-08 to Designer Program




Msg 265 - Admin_Russell, 881 days ago, 2021-07-08 to Designer Program




Msg 266 - popsicle(6563)

, 881 days ago, 2021-07-08 to Designer Program




Msg 267 - Eli_n_Me(11)

, 881 days ago, 2021-07-08 to Designer Program



Msg 268 - arminikonic(155)

, 881 days ago, 2021-07-08 to Designer Program




Msg 269 - gideon84(1086)

, 881 days ago, 2021-07-09 to Designer Program



Msg 270 - brickerking(1709)

, 881 days ago, 2021-07-08 to Designer Program



Msg 271 - Karmalink(357)

, 881 days ago, 2021-07-08 to Designer Program




Msg 272 - Laiden, 873 days ago, 2021-07-17 to Designer Program





Msg 273 - SylvainLS(44)

, 873 days ago, 2021-07-17 to Designer Program



Msg 274 - TheBrokeBrick(343)

, 881 days ago, 2021-07-08 to Designer Program



Msg 275 - Yergin(101)

, 881 days ago, 2021-07-09 to Designer Program



Msg 276 - PurpleKangaroo(136)

, 881 days ago, 2021-07-09 to Designer Program




Msg 277 - brickerking(1709)

, 881 days ago, 2021-07-09 to Designer Program





Msg 278 - Tracyd(392)

, 881 days ago, 2021-07-09 to Designer Program




Msg 279 - Tracyd(392)

, 881 days ago, 2021-07-09 to Designer Program





Msg 280 - psusaxman2000(284)

, 881 days ago, 2021-07-09 to Designer Program



Msg 281 - Tillaes(3), 881 days ago, 2021-07-09 to Designer Program



Msg 282 - Bricks_All_Over(17154)

, 881 days ago, 2021-07-09 to Designer Program



Msg 283 - AmazinCraz3(38)

, 881 days ago, 2021-07-09 to Designer Program




Msg 284 - psusaxman2000(284)

, 881 days ago, 2021-07-09 to Designer Program




Msg 285 - tEoS(5297)

, 880 days ago, 2021-07-09 to Designer Program



Msg 286 - aFanofMars(2), 881 days ago, 2021-07-09 to Designer Program




Msg 287 - arminikonic(155)

, 880 days ago, 2021-07-09 to Designer Program



Msg 288 - airblaster82(26)

, 880 days ago, 2021-07-09 to Designer Program




Msg 289 - SylvainLS(44)

, 880 days ago, 2021-07-09 to Designer Program




Msg 290 - tEoS(5297)

, 880 days ago, 2021-07-09 to Designer Program





Msg 291 - yorbrick(1170)

, 880 days ago, 2021-07-09 to Designer Program





Msg 292 - wettfink(13)

, 880 days ago, 2021-07-09 to Designer Program






Msg 293 - SylvainLS(44)

, 880 days ago, 2021-07-09 to Designer Program







Msg 294 - wettfink(13)

, 880 days ago, 2021-07-09 to Designer Program







Msg 295 - wettfink(13)

, 880 days ago, 2021-07-09 to Designer Program






Msg 296 - yorbrick(1170)

, 880 days ago, 2021-07-09 to Designer Program







Msg 297 - wettfink(13)

, 880 days ago, 2021-07-09 to Designer Program








Msg 298 - SylvainLS(44)

, 880 days ago, 2021-07-09 to Designer Program









Msg 299 - wettfink(13)

, 880 days ago, 2021-07-09 to Designer Program



Msg 300 - Rarah(553)

, 880 days ago, 2021-07-09 to Designer Program




Msg 301 - Rarah(553)

, 880 days ago, 2021-07-09 to Designer Program




Msg 302 - yorbrick(1170)

, 880 days ago, 2021-07-09 to Designer Program





Msg 303 - SylvainLS(44)

, 880 days ago, 2021-07-09 to Designer Program






Msg 304 - yorbrick(1170)

, 880 days ago, 2021-07-09 to Designer Program



Msg 305 - Pharesmm(24)

, 880 days ago, 2021-07-09 to Designer Program



Msg 306 - Markjashford(1), 880 days ago, 2021-07-10 to Designer Program




Msg 307 - tons_of_bricks(12279)

, 880 days ago, 2021-07-10 to Designer Program



Msg 308 - Skyhunterd(5), 880 days ago, 2021-07-10 to Designer Program




Msg 309 - peregrinator(698)

, 880 days ago, 2021-07-10 to Designer Program





Msg 310 - Skyhunterd(5), 880 days ago, 2021-07-10 to Designer Program






Msg 311 - popsicle(6563)

, 880 days ago, 2021-07-10 to Designer Program







Msg 312 - molten.brick(11)

, 880 days ago, 2021-07-10 to Designer Program








Msg 313 - popsicle(6563)

, 879 days ago, 2021-07-10 to Designer Program






Msg 314 - wettfink(13)

, 880 days ago, 2021-07-10 to Designer Program







Msg 315 - popsicle(6563)

, 880 days ago, 2021-07-10 to Designer Program








Msg 316 - wettfink(13)

, 879 days ago, 2021-07-10 to Designer Program









Msg 317 - popsicle(6563)

, 879 days ago, 2021-07-10 to Designer Program










Msg 318 - wettfink(13)

, 879 days ago, 2021-07-10 to Designer Program











Msg 319 - popsicle(6563)

, 879 days ago, 2021-07-10 to Designer Program












Msg 320 - wettfink(13)

, 879 days ago, 2021-07-10 to Designer Program













Msg 321 - Skyhunterd(5), 879 days ago, 2021-07-10 to Designer Program














Msg 322 - wettfink(13)

, 879 days ago, 2021-07-10 to Designer Program















Msg 323 - Skyhunterd(5), 879 days ago, 2021-07-10 to Designer Program















Msg 324 - Skyhunterd(5), 879 days ago, 2021-07-10 to Designer Program



Msg 325 - tons_of_bricks(12279)

, 880 days ago, 2021-07-10 to Designer Program




Msg 326 - TakkataEB, 879 days ago, 2021-07-11 to Designer Program



Msg 327 - RRO1977(76)

, 880 days ago, 2021-07-10 to Designer Program



Msg 328 - ricerrican(34)

, 879 days ago, 2021-07-10 to Designer Program




Msg 329 - wettfink(13)

, 879 days ago, 2021-07-10 to Designer Program



Msg 330 - molten.brick(11)

, 879 days ago, 2021-07-10 to Designer Program



Msg 331 - StephenB76(417)

, 879 days ago, 2021-07-10 to Designer Program




Msg 332 - yorbrick(1170)

, 879 days ago, 2021-07-11 to Designer Program



Msg 333 - DoggoDoge, 879 days ago, 2021-07-11 to Designer Program



Msg 334 - cucflek_, 879 days ago, 2021-07-11 to Designer Program




Msg 335 - SylvainLS(44)

, 879 days ago, 2021-07-11 to Designer Program




Msg 336 - tons_of_bricks(12279)

, 879 days ago, 2021-07-11 to Designer Program



Msg 337 - legoception(43)

, 879 days ago, 2021-07-11 to Designer Program



Msg 338 - legoception(43)

, 879 days ago, 2021-07-11 to Designer Program




Msg 339 - Elkenwood(170)

, 879 days ago, 2021-07-11 to Designer Program





Msg 340 - legoception(43)

, 879 days ago, 2021-07-11 to Designer Program






Msg 341 - tons_of_bricks(12279)

, 879 days ago, 2021-07-11 to Designer Program






Msg 342 - Elkenwood(170)

, 878 days ago, 2021-07-11 to Designer Program



Msg 343 - NegroCaballo(107)

, 879 days ago, 2021-07-11 to Designer Program




Msg 344 - wettfink(13)

, 879 days ago, 2021-07-11 to Designer Program





Msg 345 - yorbrick(1170)

, 879 days ago, 2021-07-11 to Designer Program





Msg 346 - Admin_Russell, 876 days ago, 2021-07-13 to Designer Program






Msg 347 - wettfink(13)

, 876 days ago, 2021-07-13 to Designer Program






Msg 348 - relhak(8957)

, 876 days ago, 2021-07-14 to Designer Program



Msg 349 - Teup(6459)

, 879 days ago, 2021-07-11 to Designer Program




Msg 350 - wettfink(13)

, 879 days ago, 2021-07-11 to Designer Program





Msg 351 - Teup(6459)

, 879 days ago, 2021-07-11 to Designer Program






Msg 352 - wettfink(13)

, 879 days ago, 2021-07-11 to Designer Program






Msg 353 - SylvainLS(44)

, 879 days ago, 2021-07-11 to Designer Program







Msg 354 - Teup(6459)

, 879 days ago, 2021-07-11 to Designer Program








Msg 355 - SylvainLS(44)

, 879 days ago, 2021-07-11 to Designer Program








Msg 356 - yorbrick(1170)

, 879 days ago, 2021-07-11 to Designer Program









Msg 357 - wettfink(13)

, 879 days ago, 2021-07-11 to Designer Program



Msg 358 - foxkitty(5), 879 days ago, 2021-07-11 to Designer Program




Msg 359 - wettfink(13)

, 879 days ago, 2021-07-11 to Designer Program





Msg 360 - wettfink(13)

, 878 days ago, 2021-07-11 to Designer Program






Msg 361 - qwertyboy(7661)

, 878 days ago, 2021-07-11 to Designer Program



Msg 362 - Laiden, 878 days ago, 2021-07-11 to Designer Program




Msg 363 - Elkenwood(170)

, 877 days ago, 2021-07-12 to Designer Program



Msg 364 - _fe_(9), 877 days ago, 2021-07-12 to Designer Program



Msg 365 - Runescope(365)

, 877 days ago, 2021-07-12 to Designer Program




Msg 366 - SylvainLS(44)

, 877 days ago, 2021-07-12 to Designer Program



Msg 367 - uzifr, 877 days ago, 2021-07-12 to Designer Program




Msg 368 - yorbrick(1170)

, 877 days ago, 2021-07-12 to Designer Program





Msg 369 - Tracyd(392)

, 877 days ago, 2021-07-12 to Designer Program





Msg 370 - psusaxman2000(284)

, 875 days ago, 2021-07-14 to Designer Program






Msg 371 - yorbrick(1170)

, 875 days ago, 2021-07-14 to Designer Program







Msg 372 - peregrinator(698)

, 875 days ago, 2021-07-14 to Designer Program







Msg 373 - psusaxman2000(284)

, 875 days ago, 2021-07-14 to Designer Program




Msg 374 - arminikonic(155)

, 876 days ago, 2021-07-13 to Designer Program



Msg 375 - PurpleDot(5), 877 days ago, 2021-07-12 to Designer Program




Msg 376 - wettfink(13)

, 877 days ago, 2021-07-12 to Designer Program




Msg 377 - yorbrick(1170)

, 877 days ago, 2021-07-13 to Designer Program



Msg 378 - RonnyNussbaum(34)

, 877 days ago, 2021-07-12 to Designer Program




Msg 379 - tEoS(5297)

, 877 days ago, 2021-07-13 to Designer Program





Msg 380 - Tarkur(120)

, 874 days ago, 2021-07-15 to Designer Program




Msg 381 - yorbrick(1170)

, 877 days ago, 2021-07-13 to Designer Program





Msg 382 - SylvainLS(44)

, 877 days ago, 2021-07-13 to Designer Program




Msg 383 - tons_of_bricks(12279)

, 877 days ago, 2021-07-13 to Designer Program




Msg 384 - arminikonic(155)

, 876 days ago, 2021-07-13 to Designer Program



Msg 385 - Osprey(242)

, 877 days ago, 2021-07-12 to Designer Program



Msg 386 - cww1070(32)

, 877 days ago, 2021-07-13 to Designer Program




Msg 387 - wettfink(13)

, 877 days ago, 2021-07-13 to Designer Program




Msg 388 - yorbrick(1170)

, 877 days ago, 2021-07-13 to Designer Program



Msg 389 - Marina108(31)

, 877 days ago, 2021-07-13 to Designer Program




Msg 390 - Teup(6459)

, 877 days ago, 2021-07-13 to Designer Program




Msg 391 - yorbrick(1170)

, 877 days ago, 2021-07-13 to Designer Program



Msg 392 - legomogul(15)

, 877 days ago, 2021-07-13 to Designer Program



Msg 393 - Leftoverbricks(2188)

, 877 days ago, 2021-07-13 to Designer Program




Msg 394 - ERoberts(34)

, 876 days ago, 2021-07-14 to Designer Program



Msg 395 - aaronus(162)

, 876 days ago, 2021-07-13 to Designer Program




Msg 396 - tons_of_bricks(12279)

, 876 days ago, 2021-07-13 to Designer Program





Msg 397 - aaronus(162)

, 876 days ago, 2021-07-13 to Designer Program






Msg 398 - psusaxman2000(284)

, 876 days ago, 2021-07-13 to Designer Program







Msg 399 - tons_of_bricks(12279)

, 876 days ago, 2021-07-14 to Designer Program



Msg 400 - Hawmoon(13)

, 876 days ago, 2021-07-14 to Designer Program




Msg 401 - psusaxman2000(284)

, 875 days ago, 2021-07-14 to Designer Program




Msg 402 - yorbrick(1170)

, 875 days ago, 2021-07-14 to Designer Program



Msg 403 - relhak(8957)

, 876 days ago, 2021-07-14 to Designer Program




Msg 404 - psusaxman2000(284)

, 875 days ago, 2021-07-14 to Designer Program



Msg 405 - ALEBANAX77(15)

, 876 days ago, 2021-07-14 to Designer Program




Msg 406 - yorbrick(1170)

, 875 days ago, 2021-07-14 to Designer Program





Msg 407 - ALEBANAX77(15)

, 875 days ago, 2021-07-14 to Designer Program




Msg 408 - psusaxman2000(284)

, 875 days ago, 2021-07-14 to Designer Program





Msg 409 - ALEBANAX77(15)

, 875 days ago, 2021-07-14 to Designer Program






Msg 410 - ALEBANAX77(15)

, 875 days ago, 2021-07-14 to Designer Program



Msg 411 - atraz221(14)

, 876 days ago, 2021-07-14 to Designer Program



Msg 412 - tukeetrash(80)

, 875 days ago, 2021-07-14 to Designer Program




Msg 413 - popsicle(6563)

, 875 days ago, 2021-07-14 to Designer Program



Msg 414 - wettfink(13)

, 875 days ago, 2021-07-14 to Designer Program




Msg 415 - psusaxman2000(284)

, 875 days ago, 2021-07-14 to Designer Program





Msg 416 - wettfink(13)

, 875 days ago, 2021-07-14 to Designer Program






Msg 417 - psusaxman2000(284)

, 875 days ago, 2021-07-14 to Designer Program







Msg 418 - wettfink(13)

, 875 days ago, 2021-07-14 to Designer Program



Msg 419 - yorbrick(1170)

, 875 days ago, 2021-07-14 to Designer Program




Msg 420 - Tracyd(392)

, 875 days ago, 2021-07-14 to Designer Program





Msg 421 - psusaxman2000(284)

, 875 days ago, 2021-07-14 to Designer Program



Msg 422 - ALEBANAX77(15)

, 875 days ago, 2021-07-15 to Designer Program



Msg 423 - ALEBANAX77(15)

, 875 days ago, 2021-07-15 to Designer Program




Msg 424 - molten.brick(11)

, 875 days ago, 2021-07-15 to Designer Program



Msg 425 - shumbu(3), 875 days ago, 2021-07-15 to Designer Program




Msg 426 - yorbrick(1170)

, 875 days ago, 2021-07-15 to Designer Program



Msg 427 - pace2001(321)

, 874 days ago, 2021-07-15 to Designer Program




Msg 428 - Tracyd(392)

, 874 days ago, 2021-07-15 to Designer Program




Msg 429 - tEoS(5297)

, 874 days ago, 2021-07-15 to Designer Program





Msg 430 - tEoS(5297)

, 874 days ago, 2021-07-15 to Designer Program



Msg 431 - Maxxev(221)

, 873 days ago, 2021-07-16 to Designer Program



Msg 432 - Laiden, 873 days ago, 2021-07-17 to Designer Program



Msg 433 - him86(306)

, 872 days ago, 2021-07-18 to Designer Program




Msg 434 - yorbrick(1170)

, 872 days ago, 2021-07-18 to Designer Program



Msg 435 - sovietbot(8), 870 days ago, 2021-07-19 to Designer Program



Msg 436 - ichiban110(27)

, 870 days ago, 2021-07-20 to Designer Program




Msg 437 - wettfink(13)

, 867 days ago, 2021-07-22 to Designer Program



Msg 438 - Giulia_Ilaria(5), 868 days ago, 2021-07-21 to Designer Program



Msg 439 - Alasiac, 868 days ago, 2021-07-22 to Designer Program




Msg 440 - wettfink(13)

, 867 days ago, 2021-07-22 to Designer Program





Msg 441 - MBob(9), 867 days ago, 2021-07-23 to Designer Program






Msg 442 - yorbrick(1170)

, 867 days ago, 2021-07-23 to Designer Program







Msg 443 - SylvainLS(44)

, 867 days ago, 2021-07-23 to Designer Program








Msg 444 - yorbrick(1170)

, 867 days ago, 2021-07-23 to Designer Program






Msg 445 - wettfink(13)

, 867 days ago, 2021-07-23 to Designer Program







Msg 446 - MBob(9), 867 days ago, 2021-07-23 to Designer Program








Msg 447 - wettfink(13)

, 866 days ago, 2021-07-23 to Designer Program









Msg 448 - MBob(9), 866 days ago, 2021-07-23 to Designer Program



Msg 449 - ScoundrelAtHear(1), 867 days ago, 2021-07-23 to Designer Program




Msg 450 - SylvainLS(44)

, 867 days ago, 2021-07-23 to Designer Program




Msg 451 - wettfink(13)

, 866 days ago, 2021-07-23 to Designer Program



Msg 452 - HAmmEz125(3), 866 days ago, 2021-07-23 to Designer Program



Msg 453 - kiwiman(53)

, 866 days ago, 2021-07-23 to Designer Program



Msg 454 - whataslacker(326)

, 862 days ago, 2021-07-27 to Designer Program




Msg 455 - RyanShort1(291)

, 862 days ago, 2021-07-28 to Designer Program



Msg 456 - RyanShort1(291)

, 862 days ago, 2021-07-27 to Designer Program




Msg 457 - yorbrick(1170)

, 862 days ago, 2021-07-27 to Designer Program





Msg 458 - RyanShort1(291)

, 862 days ago, 2021-07-28 to Designer Program



Msg 459 - BrickfinderSG(134)

, 862 days ago, 2021-07-27 to Designer Program



Msg 460 - junggeun(3), 862 days ago, 2021-07-27 to Designer Program



Msg 461 - p.t.a(61)

, 862 days ago, 2021-07-27 to Designer Program



Msg 462 - ColinD(30)

, 862 days ago, 2021-07-28 to Designer Program



Msg 463 - legohorder(338)

, 861 days ago, 2021-07-28 to Designer Program




Msg 464 - SylvainLS(44)

, 861 days ago, 2021-07-28 to Designer Program




Msg 465 - tEoS(5297)

, 861 days ago, 2021-07-28 to Designer Program





Msg 466 - wettfink(13)

, 861 days ago, 2021-07-29 to Designer Program





Msg 467 - psusaxman2000(284)

, 861 days ago, 2021-07-29 to Designer Program



Msg 468 - craigplizga(14)

, 857 days ago, 2021-08-02 to Designer Program




Msg 469 - psusaxman2000(284)

, 857 days ago, 2021-08-02 to Designer Program



Msg 470 - bernardcholland(1), 856 days ago, 2021-08-02 to Designer Program




Msg 471 - yorbrick(1170)

, 856 days ago, 2021-08-03 to Designer Program




Msg 472 - wettfink(13)

, 856 days ago, 2021-08-03 to Designer Program



Msg 473 - craigvr(76)

, 856 days ago, 2021-08-03 to Designer Program




Msg 474 - yorbrick(1170)

, 856 days ago, 2021-08-03 to Designer Program




Msg 475 - psusaxman2000(284)

, 856 days ago, 2021-08-03 to Designer Program



Msg 476 - greenguitarguy(67)

, 856 days ago, 2021-08-03 to Designer Program




Msg 477 - wettfink(13)

, 856 days ago, 2021-08-03 to Designer Program




Msg 478 - psusaxman2000(284)

, 856 days ago, 2021-08-03 to Designer Program



Msg 479 - legojoeuk(10)

, 855 days ago, 2021-08-03 to Designer Program




Msg 480 - wettfink(13)

, 855 days ago, 2021-08-03 to Designer Program



Msg 481 - BrickFan2424, 850 days ago, 2021-08-08 to Designer Program




Msg 482 - SylvainLS(44)

, 850 days ago, 2021-08-08 to Designer Program




Msg 483 - psusaxman2000(284)

, 850 days ago, 2021-08-08 to Designer Program



Msg 484 - sololantern, 835 days ago, 2021-08-23 to Designer Program




Msg 485 - wettfink(13)

, 835 days ago, 2021-08-23 to Designer Program




Msg 486 - Llewyn(179)

, 835 days ago, 2021-08-24 to Designer Program



Msg 487 - Snyxx(1), 832 days ago, 2021-08-26 to Designer Program