We are extending the BrickLink Designer Program
by The BrickLink Team

|
May 12, 2021 18:43 EST
Dear BrickLink members,
Based on your feedback to the structure of the BrickLink Designer Program, as well as challenges related to the current Covid situation, we decided to extend the Designer program and postpone the crowdfunding start a bit. This change aims to accommodate for equal opportunities for the designers and maximize the number of designs that can achieve crowdfunding.
What is the new structure?
Instead of one round of crowdfunding, there will be three rounds. For each round, eight to ten projects will be chosen based on feasibility and part availability. The first five of these designs that are successfully crowdfunded will then go into production.
In the illustration below, you can see the difference between the old and new structure.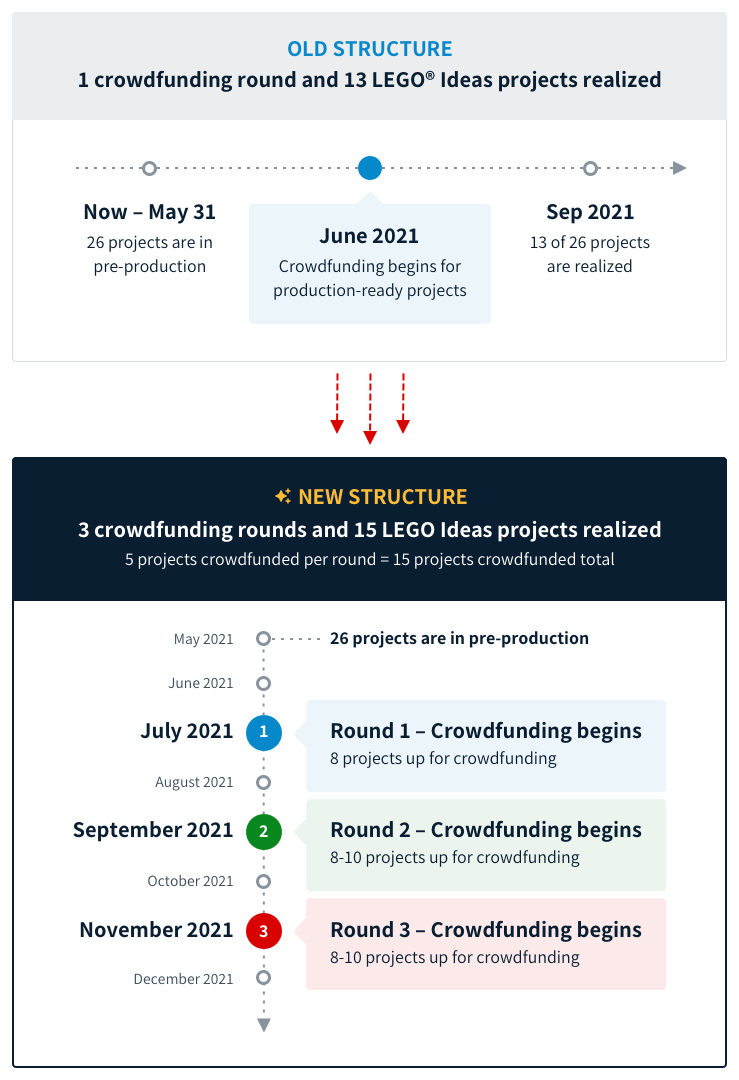 Will the projects I can crowdfund remain the same?
The designers are currently working hard to make sure that their projects can reach crowdfunding, and we are rooting for all of them to make it, no worries, they are well on their way! The projects available for crowdfunding will still be the ones currently in the BrickLink Designer Program.
The downside to the new structure is that some designs will be available 3-6 months later than with the old structure. On the other hand, that might make it possible for you to support all the projects you like!
When can I start pre-ordering?
Pre-ordering begins July 1st with the first round of crowdfunding. Rounds 2 and 3 will begin in September and November respectively. To see which projects will be ready for the first round of crowdfunding, please visit the BrickLink Designer Program landing page.
You can also visit the FAQ page for more information about the program.
Thank you,
The BrickLink Team
More BrickLink news
The BrickLink Designer Program Continues with Series 1 -

356 days ago, 2022-12-09

BrickLink Designer Program third and final round opens May 17th -

569 days ago, 2022-05-10

Second round of crowdfunding for the BrickLink Designer Program opens November 9th featuring these nine LEGO® IDEAS 10k Club Projects! -

771 days ago, 2021-10-20

Announcing Round 2 Projects -

821 days ago, 2021-08-31

BrickLink Designer Program Round 1 -

876 days ago, 2021-07-07

We are extending the BrickLink Designer Program -

932 days ago, 2021-05-12

Kicking off the BrickLink Designer Program 2021 -

988 days ago, 2021-03-17

The return of the Designer Program -

1078 days ago, 2020-12-17

Looking to the future of BrickLink -

1093 days ago, 2020-12-02

Build to Give -

1116 days ago, 2020-11-09
This news has 25 replies
| | |
| --- | --- |
| | Re: We are extending the BrickLink Designer Program - tEoS(5297) |
| | I'm ready to preorder Castle in the Forest any day now. I will have pulled out all my hair waiting for July 1st to come. [...] |
| | (932 days ago, 2021-05-12, to LEGO products) |
| | Re: We are extending the BrickLink Designer Program - Errd(2) |
| | Dear BrickLink Team. Because you're making changes in Design Program I would like to ask if there's a chance to remove the 5000 limit on the number of created sets. I love everything abo... |
| | (931 days ago, 2021-05-13, to Buying) |
| | Re: We are extending the BrickLink Designer Program - Marina108(31) |
| | When do you plan to correct the discrimination of not sending designer program sets to all EU countries? I can understand that you might limit sending all over the world, but you can have absolut... |
| | (930 days ago, 2021-05-14, to Shipping) |
| | Re: We are extending the BrickLink Designer Program - i_r_on(415) |
| | Any change in the eligible countries? |
| | (930 days ago, 2021-05-14, to Administrative) |
| | Re: We are extending the BrickLink Designer Program - kpierce8(106) |
| | Hi, I am wondering About your announcement in the lego developer's program. Does this change mean that some of the projects that had to drop out might again be available in the later rounds? S... |
| | (930 days ago, 2021-05-14, to Announce) |
| | Re: We are extending the BrickLink Designer Program - shanefreeman84(1178) |
| | How about an announcement rescinding the stupid idea to not produce physical instructions to go with the BrickLink Designer Program sets?! |
| | (929 days ago, 2021-05-15, to Suggestions) |
| | Re: We are extending the BrickLink Designer Program - DeLuca(277) |
| | Will these sets be added to the Catalog, as the ADP sets were? (URL) |
| | (928 days ago, 2021-05-16, to Catalog) |
| | (Cancelled) - FlyingGarlic(4) |
| | Cancelled |
| | (928 days ago, 2021-05-16, to Announce) |
| | Re: We are extending the BrickLink Designer Program - FlyingGarlic(4) |
| | Hi, I haven't been following all this carefully, but have been reading and looking at the designs. I recently read the full FAQ and am quite disappointed to learn that all of the new produ... |
| | (928 days ago, 2021-05-16, to Announce) |
| | Re: We are extending the BrickLink Designer Program - rvsrvs(67) |
| | I seem to remember that there was a question in the faqs stating that if a design would not make it to the minimum of 3000 sold sets, you could still buy the instructions. This question is gone t... |
| | (927 days ago, 2021-05-17, to General) |
| | Re: We are extending the BrickLink Designer Program - SlackerBricks(180) |
| | Is there an official "time zone" start for the July 1st pre-order? |
| | (925 days ago, 2021-05-19, to Feedback) |
| | Re: We are extending the BrickLink Designer Program - legoslen(64) |
| | [...] |
| | (917 days ago, 2021-05-27, to Buying) |
| | Re: We are extending the BrickLink Designer Program - Lord_Barthon(756) |
| | Dear Admins, Can you tell us the exact time (UTC) when we can start preordering on July 1st? Thank you [...] |
| | (916 days ago, 2021-05-28, to Administrative) |
| | Re: We are extending the BrickLink Designer Program - Wesman(329) |
| | Why was it decided to go for digital instructions for the 2nd AFOL Program. This is AFOL right...? Many of us are buying these sets because Box, Instructions and Limited Editions. What will th... |
| | (915 days ago, 2021-05-29, to Feedback) |
| | Re: We are extending the BrickLink Designer Program - FlyingGarlic(4) |
| | WHY NO PRINTED INSTRUCTIONS? Has this already been discussed a lot? Has it already received an answer from Lego? Since we don't know the prices yet on the new designers sets we dont yet k... |
| | (915 days ago, 2021-05-29, to Announce) |
| | Re: We are extending the BrickLink Designer Program - ModulusBrick(23) |
| | The FAQ Page for the Designer Program does not say anything about payment methods. It would be nice to know how you can pay, before crowdfunding goes live. |
| | (913 days ago, 2021-05-31, to Payment Methods) |
| | Re: We are extending the BrickLink Designer Program - NVass(349) |
| | [...] Looking at the FAQ. It says 5000 sets of each design and max order qty of 5. I read that as: The first 1000 scalpers will be able to buy all the sets and resell at a huge profit! Why 5 of... |
| | (896 days ago, 2021-06-17, to Buying) |
| | Re: We are extending the BrickLink Designer Program - daveheath(76) |
| | What time will the crowdfunding go live? |
| | (889 days ago, 2021-06-24, to Payment Methods) |
| | Instructions on app only is the worst! - cps2500(0) |
| | Bricklink, you can't be serious - Instructions on app only? I want to be able to still build my Lego-Set in twenty years, and even further in the future which will be impossible with an app... |
| | (888 days ago, 2021-06-25, to Technical Issues) |
| | Re: We are extending the BrickLink Designer Program - wettfink(13) |
| | BrickLink[/B], could you please clarify how the digital intructions will work. I can't find any specifics on this site. The press release says LEGO Building Instructions mobile app[/B] only. ... |
| | (886 days ago, 2021-06-27, to Events) |
| | Re: We are extending the BrickLink Designer Program - legokopen(834) |
| | Looking forward to it, but please, please, please allow a maximum of one set of each of the designs instead of five. There is hardly any reason for anyone to buy multiple copies apart from resell... |
| | (885 days ago, 2021-06-28, to LEGO products) |
| | Re: We are extending the BrickLink Designer Program - Taohe_Netrus(62) |
| | Will it be possible to pre-order sets from the project paying by IBAN or it's required to have a pay pal account? > > |
| | (885 days ago, 2021-06-28, to Buying) |
| | Re: We are extending the BrickLink Designer Program - Luk64(3) |
| | As the one project of the Round 1 has been postponed and there are only 7 remaining shouldnt the number of the projects up for crowfunding be decreased to 4? Or increased in the future Rounds as ... |
| | (883 days ago, 2021-06-30, to Feedback) |
| | Re: We are extending the BrickLink Designer Program - hjdw(328) |
| | On what page/page can I place my preorder? [...] |
| | (883 days ago, 2021-06-30, to Buying) |
| | Re: We are extending the BrickLink Designer Program - larrykluger(0) |
| | Hello! It is almost September. What are the dates for the next Studio round? |
| | (825 days ago, 2021-08-27, to Administrative) |
65 Messages in this Thread:

Msg 1 « - Admin, 932 days ago, 2021-05-12 to NEWS



Msg 2 - tEoS(5297)

, 932 days ago, 2021-05-12 to LEGO products




Msg 3 - flee747(15)

, 912 days ago, 2021-06-01 to LEGO products



Msg 4 - Errd(2), 931 days ago, 2021-05-13 to Buying




Msg 5 - CE_Tanja, 931 days ago, 2021-05-13 to Buying





Msg 6 - yorbrick(1169)

, 931 days ago, 2021-05-13 to Buying






Msg 7 - achimvw(171)

, 931 days ago, 2021-05-13 to Announce





Msg 8 - legokopen(834)

, 926 days ago, 2021-05-18 to Buying



Msg 9 - Marina108(31)

, 930 days ago, 2021-05-14 to Shipping



Msg 10 - i_r_on(415)

, 930 days ago, 2021-05-14 to Administrative



Msg 11 - kpierce8(106)

, 930 days ago, 2021-05-14 to Announce




Msg 12 - tEoS(5297)

, 930 days ago, 2021-05-14 to Announce





Msg 13 - tEoS(5297)

, 930 days ago, 2021-05-14 to Announce




Msg 14 - CE_Tanja, 927 days ago, 2021-05-17 to Announce



Msg 15 - shanefreeman84(1178)

, 929 days ago, 2021-05-15 to Suggestions




Msg 16 - Egcwatch(4879)

, 911 days ago, 2021-06-02 to Suggestions





Msg 17 - cobbaut(40)

, 885 days ago, 2021-06-28 to Suggestions




Msg 18 - Silvistri(19)

, 887 days ago, 2021-06-26 to Suggestions



Msg 19 - DeLuca(277)

, 928 days ago, 2021-05-16 to Catalog




Msg 20 - randyf(442)

, 928 days ago, 2021-05-16 to Catalog



Msg 21 - FlyingGarlic(4), 928 days ago, 2021-05-16 to Announce




Msg 22 - macebobo(2295)

, 928 days ago, 2021-05-16 to Announce





Msg 23 - FlyingGarlic(4), 928 days ago, 2021-05-16 to Announce





Msg 24 - Wesman(329)

, 910 days ago, 2021-06-03 to Announce






Msg 25 - SylvainLS(44)

, 910 days ago, 2021-06-03 to Announce







Msg 26 - macebobo(2295)

, 910 days ago, 2021-06-03 to Announce





Msg 27 - Deff(2), 905 days ago, 2021-06-08 to Announce



Msg 28 - FlyingGarlic(4), 928 days ago, 2021-05-16 to Announce



Msg 29 - rvsrvs(67)

, 927 days ago, 2021-05-17 to General



Msg 30 - SlackerBricks(180)

, 925 days ago, 2021-05-19 to Feedback



Msg 31 - legoslen(64)

, 917 days ago, 2021-05-27 to Buying




Msg 32 - wettfink(13)

, 917 days ago, 2021-05-27 to Buying



Msg 33 - Lord_Barthon(756)

, 916 days ago, 2021-05-28 to Administrative



Msg 34 - Wesman(329)

, 915 days ago, 2021-05-29 to Feedback



Msg 35 - FlyingGarlic(4), 915 days ago, 2021-05-29 to Announce



Msg 36 - ModulusBrick(23)

, 913 days ago, 2021-05-31 to Payment Methods



Msg 37 - NVass(349)

, 896 days ago, 2021-06-17 to Buying




Msg 38 - Rhyzleroz(77)

, 885 days ago, 2021-06-28 to Buying



Msg 39 - daveheath(76)

, 889 days ago, 2021-06-24 to Payment Methods




Msg 40 - hsousas(10)

, 889 days ago, 2021-06-24 to Payment Methods





Msg 41 - daveheath(76)

, 888 days ago, 2021-06-25 to Payment Methods



Msg 42 - cps2500, 888 days ago, 2021-06-25 to Technical Issues




Msg 43 - Silvistri(19)

, 887 days ago, 2021-06-26 to Technical Issues





Msg 44 - Adjour(2297)

, 887 days ago, 2021-06-26 to Technical Issues






Msg 45 - BrickCollection(23)

, 887 days ago, 2021-06-26 to Technical Issues







Msg 46 - Akbalder(1), 887 days ago, 2021-06-26 to Technical Issues




Msg 47 - Leftoverbricks(2188)

, 887 days ago, 2021-06-26 to Technical Issues




Msg 48 - brickbuzzard(204)

, 886 days ago, 2021-06-27 to Technical Issues



Msg 49 - wettfink(13)

, 886 days ago, 2021-06-27 to Events



Msg 50 - legokopen(834)

, 885 days ago, 2021-06-28 to LEGO products




Msg 51 - peregrinator(694)

, 885 days ago, 2021-06-28 to LEGO products





Msg 52 - SylvainLS(44)

, 885 days ago, 2021-06-28 to LEGO products





Msg 53 - tEoS(5297)

, 885 days ago, 2021-06-28 to LEGO products





Msg 54 - legokopen(834)

, 885 days ago, 2021-06-28 to LEGO products




Msg 55 - Lossecorme(73)

, 883 days ago, 2021-06-30 to LEGO products



Msg 56 - Taohe_Netrus(62)

, 885 days ago, 2021-06-28 to Buying



Msg 57 - Luk64(3), 883 days ago, 2021-06-30 to Feedback




Msg 58 - psusaxman2000(283)

, 883 days ago, 2021-06-30 to Feedback





Msg 59 - SylvainLS(44)

, 883 days ago, 2021-06-30 to Feedback




Msg 60 - yorbrick(1169)

, 883 days ago, 2021-06-30 to Feedback





Msg 61 - Luk64(3), 883 days ago, 2021-06-30 to Feedback






Msg 62 - yorbrick(1169)

, 883 days ago, 2021-06-30 to Feedback



Msg 63 - hjdw(328)

, 883 days ago, 2021-06-30 to Buying




Msg 64 - hsousas(10)

, 882 days ago, 2021-07-01 to Buying



Msg 65 - larrykluger, 825 days ago, 2021-08-27 to Administrative