Kicking off the BrickLink Designer Program 2021
by BrickLink Team

|
Mar 17, 2021 15:03 EST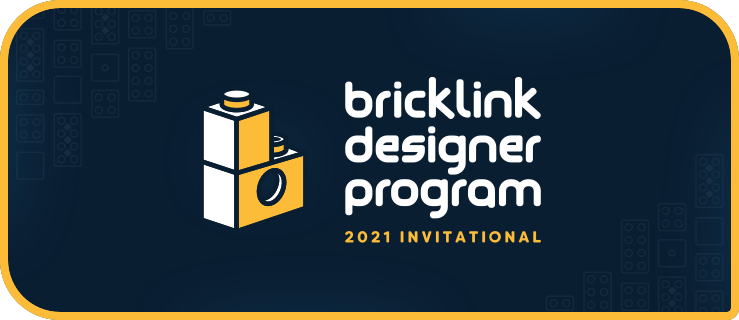 Dear BrickLink members,

Since we announced the BrickLink Designer Program back in December 2020, we have been very busy behind the scenes. Today, we are so happy to finally be ready to kick off the program and to start sharing with all of you.
The BrickLink Designer Program: 2021 Invitational is officially kicked off!

What has happened since December?
A total of 31 designs have been selected, and the LEGO Ideas 10K Club designers have been onboarded to the program.
Right now, the designers are working on the digital render of their projects, revising their designs to meet the program requirements in order to pass test building before May 31st.

Meet the LEGO Ideas 10K Club Projects in pre-production
Visit the BrickLink Designer Program landing page for your chance to see all the projects that have been entered into the program, and to follow the progress of your favorite designs from digital modeling to test building and ready for production.

Time to start the count down!
On the landing page, you can find the overall timeline for the program as well as an FAQ page that can hopefully assist you with answers to your questions. The BrickLink team will also be available to answer your questions below this post.



Follow BrickLink on Social media for more program updates!

Thank you,
The BrickLink Team
More BrickLink news
BrickLink Designer Program third and final round opens May 17th -

580 days ago, 2022-05-10

Second round of crowdfunding for the BrickLink Designer Program opens November 9th featuring these nine LEGO® IDEAS 10k Club Projects! -

782 days ago, 2021-10-20

Announcing Round 2 Projects -

831 days ago, 2021-08-31

BrickLink Designer Program Round 1 -

886 days ago, 2021-07-07

We are extending the BrickLink Designer Program -

942 days ago, 2021-05-12

Kicking off the BrickLink Designer Program 2021 -

998 days ago, 2021-03-17

The return of the Designer Program -

1088 days ago, 2020-12-17

Looking to the future of BrickLink -

1103 days ago, 2020-12-02

Build to Give -

1126 days ago, 2020-11-09

Happy 20th Anniversary, BrickLink -

1269 days ago, 2020-06-19
This news has 25 replies
| | |
| --- | --- |
| | Re: Kicking off the BrickLink Designer Program 2021 - popsicle(6563) |
| | Very exciting! -popsicle [...] |
| | (998 days ago, 2021-03-17, to Administrative) |
| | Re: Kicking off the BrickLink Designer Program 2021 - Emporiosa(5250) |
| | [...] I am so excited for this round! At least 4-5 that I'm 100% picking up. My only gripe/comment from the 1st round was the method of shipping used because it was some kind of bizarre Fede... |
| | (998 days ago, 2021-03-17, to Administrative) |
| | Re: Kicking off the BrickLink Designer Program 2021 - Akbalder(1) |
| | Will it be possible to have the sets sent from europe to prevent having to pay import taxes? [...] |
| | (998 days ago, 2021-03-17, to Administrative) |
| | Re: Kicking off the BrickLink Designer Program 2021 - yorbrick(1170) |
| | Who will be making the sets this time. You say they will be made in Europe. Will that be EU or UK (as the first country named in Europe us UK). |
| | (998 days ago, 2021-03-17, to Buying) |
| | Re: Kicking off the BrickLink Designer Program 2021 - STL_Brick_Co(443) |
| | It is a bit unclear from the write up: are all 31 sets being produced? Or will we get a selected amount? [...] |
| | (998 days ago, 2021-03-17, to General) |
| | Re: Kicking off the BrickLink Designer Program 2021 - exectails(7) |
| | In what form will the instructions be made available? The FAQ says there won't be physical ones, which is already unfortunate, but it sounds like they'll only be available on mobile...? A... |
| | (998 days ago, 2021-03-17, to General) |
| | Re: Kicking off the BrickLink Designer Program 2021 - Brickitty(5653) |
| | Wow! What a selection of sets. I could only easily eliminate 7 that I wouldn't want, and possibly the 3 Fishing Village ones as well, so that still leaves 21 to 24 sets I'll likely want t... |
| | (998 days ago, 2021-03-17, to General) |
| | Re: Kicking off the BrickLink Designer Program 2021 - busyman96(39) |
| | [...] I am disappointed in two things: 1. That you only ship to 30 countries, mine not included. 2. That you will not publish the building instructions, which would have been a consolation for ... |
| | (998 days ago, 2021-03-17, to Feedback) |
| | Re: Kicking off the BrickLink Designer Program 2021 - calebfishn(2109) |
| | How can I view the sets? I clicked on the link in the message, but all I get is blank page. |
| | (998 days ago, 2021-03-17, to Help) |
| | Re: Kicking off the BrickLink Designer Program 2021 - XoverBrick(116) |
| | Awesome news! Two questions: 1.) What payment methods will be available? It would be great to have more than one payment option! 2.) In some parts of the FAQ you are mentioned 3... |
| | (998 days ago, 2021-03-17, to New Sets) |
| | Re: Kicking off the BrickLink Designer Program 2021 - papluh(36) |
| | Please fix the page. It is really messy. When, or better if it loads it is really huge - the page itself is 12MB. And all the additional images add up to whooping 60MB when finished ... after a... |
| | (998 days ago, 2021-03-17, to Problem) |
| | Re: Kicking off the BrickLink Designer Program 2021 - papluh(36) |
| | can this FAQ topic be further explained ? Q: How many sets can I pre-order? A: There is no restriction on the number of pre-orders unless products are sold out. Does that mean that if a set... |
| | (998 days ago, 2021-03-17, to Administrative) |
| | Re: Kicking off the BrickLink Designer Program 2021 - axaday(7283) |
| | I could certainly be interested in a modular LEGO store or construction site, but they don't really work. The LEGO store is way off scale with doors twice as tall as a minifig and the constr... |
| | (998 days ago, 2021-03-17, to LEGO products) |
| | Re: Kicking off the BrickLink Designer Program 2021 - skvely(71) |
| | Now that the page is finally loading... there are a lot of beautiful sets, but I'm kind of disappointed that over half of them are buildings. I'm more partial to vehicles, but I can see h... |
| | (998 days ago, 2021-03-17, to LEGO products) |
| | Re: Kicking off the BrickLink Designer Program 2021 - randyf(442) |
| | I can finally see the sets, and I have to say that I am quite disappointed and underwhelmed. I am most partial to space and vehicle sets, and the number of those in this selection is extremely th... |
| | (998 days ago, 2021-03-17, to Administrative) |
| | Re: Kicking off the BrickLink Designer Program 2021 - legoman77(3628) |
| | [...] Kicking off can mean "removed" as in "getting kicked off the team. Kicking off can also mean starting something. John P |
| | (998 days ago, 2021-03-17, to Announce) |
| | Re: Kicking off the BrickLink Designer Program 2021 - brickerking(1712) |
| | [...] I'm kinda stressed out that it's a race to 13 approved projects. If it's anything like last time, the 13 who get crowdfunded will all max out at 5,000. I'm just really happ... |
| | (998 days ago, 2021-03-18, to Announce) |
| | Re: Kicking off the BrickLink Designer Program 2021 - Styphelus(88) |
| | There was 1 imperial ship and 2 imperial forts. Why didn't any of those 3 sets make it? I really wanted something to go with my barracuda bay. |
| | (997 days ago, 2021-03-18, to Administrative) |
| | (Cancelled) - maxdoescoota(0) |
| | Cancelled |
| | (995 days ago, 2021-03-21, to Problem Order) |
| | (Cancelled) - AcquaBricks(1466) |
| | Cancelled |
| | (976 days ago, 2021-04-09, to Administrative) |
| | Why's Asia excluded from BL Designer Program 2021? - AcquaBricks(1466) |
| | Why is most of Asia -- and ALL of SE Asia(!) -- excluded from the BrickLink Designer Program 2021? It feels like a snub to millions of AFOLs, especially to those of us in the regi... |
| | (976 days ago, 2021-04-09, to Administrative) |
| | Re: Kicking off the BrickLink Designer Program 2021 - AcquaBricks(1466) |
| | Why is most of Asia -- and all of SE Asia(!) -- excluded from this? It feels like a snub to millions of AFOLs, especially to those of us in the region who supported the inaugura... |
| | (976 days ago, 2021-04-09, to Administrative) |
| | Re: Kicking off the BrickLink Designer Program 2021 - AngryPawn2020(9) |
| | Hi guys, have you noticed that two BDP projects are no longer accessible? The links lead to nothing. Temple of Hermit: (URL) Japanese Style Architecture: (URL) |
| | (971 days ago, 2021-04-14, to Feedback) |
| | Re: Kicking off the BrickLink Designer Program 2021 - topolsek123(44) |
| | nice |
| | (963 days ago, 2021-04-22, to LEGO products) |
| | Re: Kicking off the BrickLink Designer Program 2021 - AngryPawn2020(9) |
| | Hi Brick-Team, in the beginnung of the BDP you announced that all non-funded sets will have a chance to sell the instructions. In the Ideas Blogpost as of March 17th LEGO wrote: ((URL) ... |
| | (713 days ago, 2021-12-28, to Administrative) |
64 Messages in this Thread:

Msg 1 « - Admin, 998 days ago, 2021-03-17 to NEWS



Msg 2 - popsicle(6563)

, 998 days ago, 2021-03-17 to Administrative




Msg 3 - LegoLDK(32)

, 982 days ago, 2021-04-03 to Administrative





Msg 4 - yorbrick(1170)

, 982 days ago, 2021-04-03 to Administrative






Msg 5 - LegoLDK(32)

, 982 days ago, 2021-04-03 to Administrative



Msg 6 - Emporiosa(5250)

, 998 days ago, 2021-03-17 to Administrative



Msg 7 - Akbalder(1), 998 days ago, 2021-03-17 to Administrative




Msg 8 - paulvdb(7064)

, 998 days ago, 2021-03-17 to Administrative




Msg 9 - marvinp(208)

, 998 days ago, 2021-03-17 to Administrative



Msg 10 - yorbrick(1170)

, 998 days ago, 2021-03-17 to Buying



Msg 11 - STL_Brick_Co(443)

, 998 days ago, 2021-03-17 to General




Msg 12 - SylvainLS(44)

, 998 days ago, 2021-03-17 to General




Msg 13 - Emporiosa(5250)

, 998 days ago, 2021-03-17 to General





Msg 14 - Emporiosa(5250)

, 998 days ago, 2021-03-17 to General



Msg 15 - exectails(7), 998 days ago, 2021-03-17 to General




Msg 16 - Akbalder(1), 998 days ago, 2021-03-17 to General



Msg 17 - Brickitty(5653)

, 998 days ago, 2021-03-17 to General




Msg 18 - Brickitty(5653)

, 998 days ago, 2021-03-17 to General



Msg 19 - busyman96(39)

, 998 days ago, 2021-03-17 to Feedback




Msg 20 - brickapura(471)

, 967 days ago, 2021-04-18 to Feedback



Msg 21 - calebfishn(2109)

, 998 days ago, 2021-03-17 to Help




Msg 22 - SylvainLS(44)

, 998 days ago, 2021-03-17 to Help




Msg 23 - randyf(442)

, 998 days ago, 2021-03-17 to Help



Msg 24 - XoverBrick(116)

, 998 days ago, 2021-03-17 to New Sets




Msg 25 - marvinp(208)

, 998 days ago, 2021-03-17 to New Sets



Msg 26 - papluh(36)

, 998 days ago, 2021-03-17 to Problem




Msg 27 - marvinp(208)

, 998 days ago, 2021-03-17 to Problem





Msg 28 - papluh(36)

, 998 days ago, 2021-03-17 to Problem




Msg 29 - Admin, 998 days ago, 2021-03-17 to Problem





Msg 30 - papluh(36)

, 998 days ago, 2021-03-17 to Problem






Msg 31 - randyf(442)

, 998 days ago, 2021-03-17 to Problem







Msg 32 - papluh(36)

, 998 days ago, 2021-03-18 to Problem








Msg 33 - Admin_Russell, 996 days ago, 2021-03-19 to Problem









Msg 34 - papluh(36)

, 991 days ago, 2021-03-24 to Problem



Msg 35 - papluh(36)

, 998 days ago, 2021-03-17 to Administrative



Msg 36 - axaday(7283)

, 998 days ago, 2021-03-17 to LEGO products



Msg 37 - skvely(71)

, 998 days ago, 2021-03-17 to LEGO products



Msg 38 - randyf(442)

, 998 days ago, 2021-03-17 to Administrative



Msg 39 - legoman77(3628)

, 998 days ago, 2021-03-17 to Announce




Msg 40 - magicalbricks24(560)

, 998 days ago, 2021-03-18 to Announce





Msg 41 - SylvainLS(44)

, 998 days ago, 2021-03-18 to Announce



Msg 42 - brickerking(1712)

, 998 days ago, 2021-03-18 to Announce




Msg 43 - psusaxman2000(284)

, 997 days ago, 2021-03-18 to Announce





Msg 44 - exectails(7), 997 days ago, 2021-03-18 to Announce






Msg 45 - Admin_Russell, 996 days ago, 2021-03-19 to Announce







Msg 46 - exectails(7), 996 days ago, 2021-03-19 to Announce







Msg 47 - Akbalder(1), 993 days ago, 2021-03-22 to Announce







Msg 48 - brickerking(1712)

, 993 days ago, 2021-03-22 to Announce



Msg 49 - Styphelus(88)

, 997 days ago, 2021-03-18 to Administrative




Msg 50 - Admin_Russell, 996 days ago, 2021-03-19 to Administrative





Msg 51 - Styphelus(88)

, 991 days ago, 2021-03-24 to Administrative






Msg 52 - SylvainLS(44)

, 991 days ago, 2021-03-24 to Administrative







Msg 53 - Styphelus(88)

, 991 days ago, 2021-03-25 to Administrative








Msg 54 - SylvainLS(44)

, 991 days ago, 2021-03-25 to Administrative



Msg 55 - maxdoescoota, 995 days ago, 2021-03-21 to Problem Order



Msg 56 - AcquaBricks(1466)

, 976 days ago, 2021-04-09 to Administrative



Msg 57 - AcquaBricks(1466)

, 976 days ago, 2021-04-09 to Administrative



Msg 58 - AcquaBricks(1466)

, 976 days ago, 2021-04-09 to Administrative



Msg 59 - AngryPawn2020(9), 971 days ago, 2021-04-14 to Feedback



Msg 60 - topolsek123(44)

, 963 days ago, 2021-04-22 to LEGO products



Msg 61 - AngryPawn2020(9), 713 days ago, 2021-12-28 to Administrative




Msg 62 - StarBrick(6930)

, 713 days ago, 2021-12-28 to Administrative




Msg 63 - CE_Tanja, 705 days ago, 2022-01-04 to Administrative





Msg 64 - calebfishn(2109)

, 705 days ago, 2022-01-05 to Administrative